As a homeowner, we all depend on our heating and air conditioning systems to create a comfortable environment for our family. If the HVAC system stops working, it not only leaves the residents of the house uncomfortable, but also frustrated.
In this post, we're going to discuss some of the common ways in which you can identify and troubleshoot heating and air conditioning problems in your Westmont home before they turn into much larger issues:
1. Dirty Filters
Air filters can easily get clogged with dirt, thereby impacting the way the HVAC unit runs. Clean filters are essential for fresh air to circulate, and to maintain a good quality of air inside the home. Filters may get clogged if the outside air is very polluted, is subjected to harsh weather conditions, or if the HVAC unit has not undergone regular maintenance. We recommend that you check the filters regularly to ensure that they are free of dirt and debris.
2. Thermostat Settings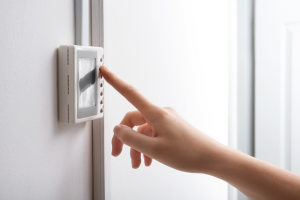 Thermostats are either manual or programmable. If the furnace is not functioning as desired, there could be a chance that the thermostat is not functioning properly. You could quickly glance through the owner's manual and review the operating instructions to check if the thermostat settings can be adjusted. This can save you from an unnecessary and costly service call.
3. Ignition Problems
A number of factors could lead to ignition problems. Some of the most common ones include a malfunctioning flame sensor, a dirty pilot, short cycling, delayed ignition, or furnace lockout. Even though it's good to diagnose the ignition problem, it is strongly recommended that you hire a trained technician to have a look at it, because it involves high voltage and natural gas.
4. Uneven Heating or Cooling
You may often find that some parts of your home are cooler or warmer than others. This indicates that the treated air is not reaching all parts of the room evenly. Examine the seals in the windows and the doors to determine if the air is escaping from any unnoticed leaks. If they are leaking, you can seal them off to allow for more efficient heating and cooling.
5. Dirty Evaporator or Condenser Coils
Evaporator coils need to be clean in order to remain efficient for the heat exchange process. If they are covered with debris and dirt, not only will their efficiency decrease over time, but they will also experience more wear and tear. If you notice that your coils are dirty, you can use a hose to clean and wash them after shutting off the power from the condenser.
6. Furnace Noises
Unusual furnace noises are another common indicator of a problem. If you hear a squealing or whining sound, it could indicate that the bearings of the motor are failing. Other noises could be caused by dirty burners or airflow issues. In either case, it's best to shut down the unit and take a close look for wear and tear or misaligned components.
7. Leaking Refrigerant
Refrigerant circulates within the coils and is responsible for dehumidifying and cooling the indoor air. When the unit doesn't have enough refrigerant, it will fail to cool the room effectively. It's important to make sure there are no refrigerant leaks — a lower refrigerant level can lead to the system drawing more power, causing overload and further damage to the unit.
Contact Your Local Westmont Heating and Air Conditioning Company
Are you looking to service your heating or air conditioning system to improve the air quality and comfort of your Westmont home? If so, Hearthstone Heating & Air Conditioning is here to help. We have a team of skilled HVAC technicians that have been serving the Westmont area since 1996.
Contact us today to set up an appointment!