Air Conditioning Repair in Westmont, IL
Whether your air conditioning unit is a single-room or whole-house system, old or new, it is a sophisticated appliance, and when problems occur, you need the help of trained professionals. Procrastination can sometimes lead to more extensive damage to your equipment. Rely on the licensed technicians from Hearthstone Heating and Air Conditioning, Ltd. to determine the extent of the problem and resolve it quickly. Our team is fully insured, EPA certified, and factory trained to handle everything from minor calibration to complete system replacement.
Hearthstone technicians are prompt, skilled and offer wide versatility in solving your cooling difficulties, no matter the make, model or age of your system. And we are available any time you need us. For 24/7 emergency ac service, call 630-435-9800 with complete confidence. Courteous, affordable and competent assistance is only minutes away. The Hearthstone home base is right in your neighborhood, at 105 W 61st Street, Westmont, and we service DuPage County with total dedication. Trust our team to arrive equipped with the tools, replacement parts and experience to offer the most insightful resolutions to the most complex issues.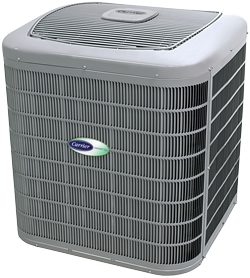 The various component of your cooling system work together to provide the comfort, efficiency and noise levels you've come to expect. Even the most cared for equipment can suffer faults that require conscientious attention. Sometimes the issues are a simple matter of the thermostat malfunctioning or dust restricting airflow. If your air conditioner is dripping or water is pooling at the base of the unit, condensation may be leaking from the drain tube or something may be blocking the condensate drain. While these difficulties are quickly and easily corrected, they can grow into much bigger problems if ignored.
A/C Repair Experts in Naperville, Lisle, Downers Grove, Woodridge, Darien & Westmont, IL & Surrounding Areas
Though most air handlers now utilize direct-drive motors, some older units may be belt-driven.  Screeching sounds from a belt-drive air handler tend to occur when the belt that connects the motor to the blower slips.  The belt could be improperly aligned or worn, and may require replacement.  If a direct-drive blower is grinding or squealing, there is probably a problem with the motor's bearings.  These problems, along with more serious issues, such as defective condenser or malfunctioning refrigeration system, is best left to trained air conditioning technicians.  Hearthstone Heating and Air Conditioning, Ltd. is a Carrier Factory Authorized Dealer, qualifying our technicians to answer warranty stipulations.
As a Carrier Factory Authorized Dealer, our service and sales team keep current with technology and are able to identify and recommend solutions that provide the highest level of comfort and value.  As part of our Factory endorsement, our team is entirely NATE-certified and use Factory Authorized Parts to ensure your system performs as promised.  NATE-certified technicians show up on time, prepared to complete the job quickly, without multiple visits.  Our technicians have verified their knowledge of heating and cooling equipment through rigorous testing, so you know you're getting a serviceman you can trust.  Through professional service from Hearthstone, your equipment will run at peak performance year after year.
After nearly twenty years of serving DuPage County and the surrounding area, Hearthstone consistently delivers affordable and dependable solutions to air conditioning malfunctions, ensuring safe and satisfying operation.  Through our dedication to personalized attention and quality workmanship, the Hearthstone team of professionals takes the extra steps to not only fix the most pressing issue but also optimize your system to restore original efficiency, capacity and sound levels, while also preventing against further problems.  Our goal is to create and maintain a home environment that is perfectly cool, clean and healthy for your perfect comfort.  Call us at 630-435-9800 for repairs you can count on.
---