INDOOR AIR QUALITY
Air Filtration & Humidification
Many homes, built prior to the establishment of modern efficiency and building codes, suffer from inflated energy consumption, uneven temperatures room-to-room, and poor Indoor Air Quality.  Your heating, cooling and ventilation systems greatly influence the cleanliness of your home, quality of the air you breathe and health of your family. Drafts, moisture, mold, mildew, insects, humidity levels, dust, and a long list of airborne contaminants all contribute to poor comfort, higher utility bills and numerous health concerns.  Through proactive measures, the specialists from Hearthstone will address your concerns and identify the most effective air filtration solutions.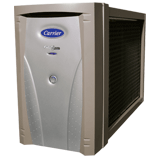 Hearthstone offers a full line of Indoor Air Quality solutions to maintain a home that is clear of airborne pollutants. Our comfort specialists will match your needs with services and products designed to stabilize humidity levels, and minimize the allergens, pathogens and bacteria that endanger your health. Your health, comfort and satisfaction are our priority. We won't recommend or sell your something you don't need.
The air quality specialists from Hearthstone are BPI certified. The Building Performance Institute, Inc. establishes workforce credentials through written and in-field exams that demonstrate working knowledge of home-auditing and energy efficiency upgrades. The temperature control systems in your home are the main factor in your overall comfort, health, safety and energy costs. Our licensed, factory trained and NATE-certified technicians will ensure your system as a whole is functioning at its best, identify any area of concerns, and design the most cost-efficient means of resolution. As a Carrier Factory Authorized Dealer, we have complete access to the most sophisticated and proven germicidal, filtration, purification, and humidification systems on the market.
With increasing numbers of people suffering from asthma in the United States, especially among those who spend most of their time inside, Indoor Air Quality is a growing concern. In 1990, the US Environmental Protection Agency ranked indoor air pollutions as a high priority public health risk. The technicians from Hearthstone are experts at refining your home to establish healthy Indoor Air Quality and offer proven methods of air filtration, purification and humidification.
Low humidity is of equal concern as overly high humidity. According to the American Society of Otolaryngology, insufficient moisture in the air can make people more vulnerable to infection. Viruses that cause colds and flu thrive in low humidity. Dry air also aggravates symptoms of eczema, psoriasis, allergy and asthma. Electronics can be damaged by static electric charges, requiring expensive repair or replacement. Proper humidity levels allow you to feel more comfortable with less demand from your heating equipment during the cold winter months. According to the EPA, every degree you lower your thermostat can offer 4% savings on your heating bill.
It's easy to take the air you breathe for granted. Chances are you have billions of air pollutants making a home in your home. Dust mites. Mold. Mildew. Skin flakes. Pollen. Pet dander. Our air quality experts are here to help. To make sure you breathe easier, Hearthstone has the know-how to find and install the right air quality products and ensure everything is properly installed. For personal attention and old-fashioned commitment in DuPage County and the surrounding areas, call Hearthstone and we'll get control of your Indoor Air Quality.