With constant advances in modern technology, we have seen smart cars, smartphones, and smart gadgets that can save us a great deal of time and money.
Your HVAC unit is no exception to this growth in technology, and the latest models of air conditioners available today can now be integrated with what is known as a "smart thermostat".
Below, this heating and cooling company in Oak Brook, Illinois is going to discuss the benefits of installing a smart thermostat, and how it can help your air conditioner operate more efficiently.
Helps Track Your Energy Usage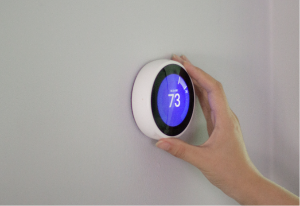 Smart thermostats can help you accurately monitor your energy usage. In fact, they can keep track of exactly how much energy your heating and cooling systems use every month. With a smart thermostat, everything is connected through an app on your smartphone or tablet, which allows you to keep tabs on your average energy usage over time.
As any reputable Oak Brook heating and cooling company will tell you, most HVAC issues begin with an incremental change in your energy bill. As such, reports from your smart thermostat can act as a cue to help you avoid a major breakdown. If you notice your energy bill going up, with no other changes in the house, it could be a sign that it's time to have your air conditioner inspected by a professional.
Provides More Accurate Readings
A smart thermostat provides more accurate readings than an analog or digital thermostat. As such, a smart thermostat can maintain temperatures inside the home without much fluctuation. This, in turn, puts less strain on the air conditioner, resulting in less wear and tear of the components.
Sends Alerts for Malfunctions
A smart thermostat is designed to detect potential issues and notify you when something is not right. It can recognize when an air conditioner is suddenly drawing more energy and straying from its normal operating schedule. For example, if a window in your home is broken while you are away during the day, a smart thermostat will detect the sudden change in temperature and send you an alert on your smartphone.
Alternatively, if there's no change in the indoor temperature, and yet there is still a spike in energy usage, it could indicate a problem with your air conditioner. If this is the case, a smart thermostat can alert you that it's time to contact your local Oak Brook air conditioning repair company.
Saves Energy
One of the biggest advantages of installing a smart thermostat is the cost savings you'll notice on your energy bill. A smart thermostat can program your air conditioner to run less when nobody is in the house. Additionally, the thermostat can also be programmed to start cooling your home right before you return.
Although the efficiency of the unit could vary based on the manufacturer, on average, you can save about 10% to 15% on your energy bills by installing a smart thermostat in Oak Brook, Illinois.
Ready to Install a Smart Thermostat? Contact the Top-Rated Heating and Cooling Company in Oak Brook, Illinois
Are you interested in installing a smart thermostat in your home? Are you looking to partner with the top-rated heating and cooling company in Oak Brook, Illinois? If so, look no further than the professionals at Hearthstone Heating & Air Conditioning.
We have been in business since 1996, and we've worked with countless homeowners throughout the Oak Brook area. Regardless of your heating and cooling needs, our licensed HVAC technicians are happy to help. Contact us today to schedule an appointment.