Sizing a new heating system is one of those processes that seems simple at first glance, but it really isn't. In fact, the chances of having your new heating system sized incorrectly are greater than it being sized the right way. Hearthstone Heating seeks to change this issue, providing our customers throughout the Chicago Metro area with the ideal sizing approach for installing a heating system that's the perfect size for their home. 
Sizing a New Heating System: Simple Idea, Complex Process
On the surface, the layperson might think that sizing a new heating system is as simple as calculating your home's square footage and then buying a system that corresponds to those measurements. But imagine that a house built in the 1920s has the same square footage as a house constructed in 2012. Right off the bat, you'd think that it shouldn't be an apples-to-apples comparison – and you would be right.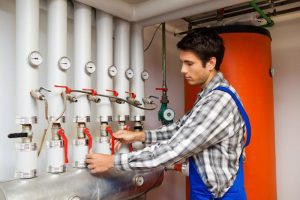 Home building has come a long way in the last eight decades, and so has the collective approach towards maximizing heating system efficiency. And in order to get the sizing right, many variables must be considered, such as:
How many floors your home has

Your rooms' ceiling height

How many windows are in your home, and how much "passive heat" they allow in

Whether your home has a basement or crawlspace

The quality of your home's insulation

Your home's age
Even given the advancements in building techniques and philosophies regarding heat conservation, it is still quite common for heating system installers to insist that you can base your new heating system's size on your old system's size. What gets forgotten here is that along with changes in home-building, heating systems have evolved as well – and at a much faster rate. In fact, if your old furnace/boiler is more than 10 years old, there's a high likelihood that the models of 2017 are significantly more efficient. For your next furnace installation near Westmont, you want the latest, most efficient system on the market.
What Do We Do With All of This Data?
Without question, the most reliable method for sizing a new heating system is the "Manual J Load calculation". Developed by no less an authority than the Air Conditioning Contractors of America (ACCA), Manual J takes all of the bullet-pointed data above and adds another dozen or so variables, some of the most important of which are:
Number and ages of your home's occupants

Occupant comfort preferences

The local climate

The types and efficiencies of heat-emitting lights and home appliances

Room volume

Insulation

Construction materials
Manual J is one-part math, one-part estimating, and one-part on-site testing. It's not as simple as sizing a new heating system by a home's square footage, or by the existing heating system. And that's a good thing, because it means that Manual J is exceptionally precise. It will definitely take more time than the aforementioned methods, and it might cost a little bit more up front, but these things are dwarfed by the savings you'll accrue over the next decade-plus – savings that are intrinsically related to correctly sizing your new heating system.
Contact a Local HVAC Expert
If you're ready to move forward with a new heating system, contact Hearthstone Heating, the experts in furnace, HVAC, and boiler installation near LaGrange.