A broken-down HVAC system is something no homeowner wants to experience — but unfortunately, it happens. If you are trying to save money on your HVAC repairs, you might be tempted to try to fix the problem yourself. However, this is not something that most people are qualified to handle. To make matters worse, attempting to repair your system could end up costing you more money if it ends up not working after your attempts at a repair.
Below, this HVAC repair contractor in Oak Brook, Illinois is going to discuss the top five reasons why you should leave these types of repairs to the professionals.
Lack of Training and Experience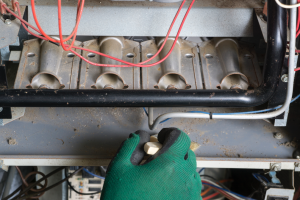 DIY HVAC repair may seem like the easy answer to saving money, but the truth is that it is never a good idea for anyone who does not know what they are doing.
If you are not a trained or experienced HVAC repair contractor, then there is really no way for you to be certain that you know how to repair an air conditioning unit. This is especially true when it comes to repairing one of the more complicated models. Even worse, if you do something wrong, it can cost you a lot more money than a professional would have to make the necessary repairs.
Hiring a licensed HVAC repair contractor in Oak Brook, Illinois will ensure your system is repaired properly.
The Risks Involved
Repairing an HVAC system may sound easy to some, but it comes with certain risks. Touch the wrong electrical components, and it can lead to electric shock or fatal electrocution. Mishandle natural gas, and it can lead to a fire or explosion. Vent the system improperly, and you risk poisoning from inhaling carbon monoxide or gas fumes.
The risks involved when performing DIY HVAC repairs are too great to ignore. Therefore, it is best to hire a professional HVAC repair contractor in Oak Brook, Illinois who follows all safety protocols and adheres to industry guidelines and best practices.
The Cost of Parts and Equipment
The cost of parts and equipment is another major factor you should consider before taking on a DIY HVAC repair project. Without extensive training and experience, it can be challenging to replace complex parts without making any mistakes or causing permanent damage to your equipment. The cost of parts alone could be more than what you would pay for an HVAC repair contractor.
The Time Involved
HVAC repairs can be time-consuming for amateurs. You would most likely need to set aside an entire day for a repair that may only take up to an hour or two if you were to hire a professional HVAC repair contractor in Oak Brook, Illinois.
Voiding Your Warranty
If you want to get the most out of your warranty, you should never attempt to do any repairs on your own. If you try and fix something that goes wrong, it can void your warranty. This means that if something breaks after you try to fix it, the HVAC manufacturer or seller is not responsible for fixing it.
Looking for the Top-Rated HVAC Repair Contractor in Oak Brook, Illinois?
HVAC repairs can be tricky — even if you are an experienced DIYer, HVAC systems have some unique aspects that require experience and expertise to handle effectively. In most cases, it is best to hire a professional for your HVAC repair needs.
Are you currently dealing with HVAC issues that need to be addressed by a professional? If so, and if you're looking for the top-rated HVAC repair contractor in Oak Brook, Illinois, you've come to the right place — Hearthstone Heating & Air Conditioning is here to help. Contact us today at (630) 435-9800 to schedule a repair.