Making the decision to hire an HVAC repair company is a big one — and you'll want to be sure that you're making the best choice for your home and your finances. Before you decide on a particular HVAC repair company in Glen Ellyn, Illinois, here are four key questions you should ask to ensure you get the quality of service you need:
1. How Long Has the Company Been in Business?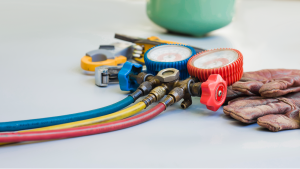 One of the most important questions to ask when looking for an HVAC repair company is how long they have been in business. Not only does this indicate the quality of service they can provide, but it also shows you how much experience they have in the field. HVAC repair companies in Glen Ellyn, Illinois that have been around for a while are usually more reliable and offer more competitive prices.
2. Are You Licensed and Insured?
When looking for an HVAC repair company, make sure they are licensed and insured. This is critical to protect yourself as a consumer.
First, companies must be properly licensed to do any work on your heating and cooling system. This not only means that the technicians have undergone the necessary training and certification, but also that the company can be held accountable if there are any problems. Second, hiring an insured professional means that if any damage occurs on your property during the repair process, the company will cover any costs associated with it.
When asking an HVAC repair company if they are licensed and insured, make sure you get documentation proving it. Ask to see their license and copies of their insurance certificates. This is important to ensure that your repair will be handled legally and professionally. Be sure to read the fine print on their insurance policy to ensure it covers all areas of repair and replacement.
3. Can You Provide References from Past Customers?
When looking for an HVAC repair company in Glen Ellyn, Illinois, it is important to make sure they can provide references from past customers. Reputable companies will be more than willing to do so to demonstrate their level of service and commitment to customer satisfaction.
References are a great way to get an unbiased opinion about the quality of the company's services. Past customers can give you an honest assessment of the company's performance in terms of both customer service and technical knowledge.
4. What Is Your Pricing and Payment Policy?
Before agreeing to have any work done by a prospective HVAC repair company in Glen Ellyn, Illinois, you'll want to ensure you get the best value for your money. That's why it is important to ask about their pricing and payment policy.
Ask about their rates for labor, materials, and other services they offer. If they offer any discounts or promotions, ask about those too. Also, find out what type of payment they accept. Do they accept credit cards? Do they accept cash payments? Make sure you understand all the terms before agreeing to any services.
Looking for a Reputable HVAC Repair Company in Glen Ellyn, Illinois?
Choosing an HVAC repair company is an important decision that requires research and careful consideration. It's important that you ask the right questions before you commit to any services. Make sure the company is experienced, licensed, insured, and has a good track record with past customers. Don't forget to factor in their prices, payment policies, and other relevant details.
Are you looking for a reputable HVAC repair company in Glen Ellyn, Illinois that meets all the criteria reviewed above? If so, look no further than the professionals at Hearthstone Heating & Air Conditioning. Contact us today at (630) 435-9800 to learn how we can help.