A regularly scheduled maintenance plan for your heating and air conditioning system is essential—not only to ensure that the life of your system is extended, but also to keep you and your family safe, healthy, and comfortable.
Here are six major benefits of investing in an heating and air conditioning maintenance plan in Downers Grove:
1. Longer Lifespan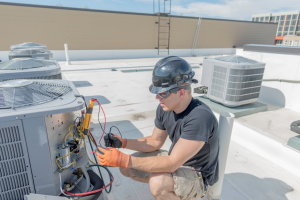 The HVAC unit has both stationary and rotary parts that need to be serviced as per the manufacturer's recommendations. Whether you've bought a house with a pre-existing system or a new HVAC unit, unless you schedule a regular tune-up, it is quite likely that your system may give you some trouble.
In fact, regular heating and air conditioning servicing can even help your system surpass its standard functioning age of 10 to 15 years and serve you even longer.
2. Healthier Air
If kept unclean, the HVAC unit will circulate dirty air, which is obviously not healthy for long term inhalation by you and your family. If the ductwork gets clogged, there are high chances that dust, dirt, debris, pollen, and mildew can enter your home.
Regular maintenance involves the cleaning of all the fan motors and coils, and also includes the replacement of filters and other system parts. This will reduce allergens from entering the home, ensuring that fresh air is always circulated inside the house.
3. Cost Savings
It is vital for your HVAC unit to run at its optimum efficiency. When it does, it uses less energy to bring the temperature of the room to the desired level set by the thermostat. If you are noticing higher utility bills, it is time to schedule an HVAC maintenance appointment.
Furthermore, regular inspections will help in identifying problems in advance, so that you aren't left facing a massive repair bill due to the failure of a major component.
4. Improved Unit Performance
Regular HVAC maintenance helps the unit achieve optimal performance. This will help the unit always run clean, effectively, and efficiently as per the standards of the manufacturer.
5. Fewer System Breakdowns
As a homeowner, you could face a stressful and expensive situation if you are left with an emergency repair for your HVAC unit. This could be something as significant as a furnace repair in the middle of winter.
However, with an annual maintenance agreement, you can drastically reduce the chances of a massive, unexpected system breakdown. During an HVAC servicing, the technician will perform a tune-up of each component, and he or she will check to see if there are any issues that could soon turn into costly problems. If any early problems are identified, the technician can take steps to correct them.
Therefore, scheduled maintenance helps in preventing a small problem from escalating to a much larger issue.
6. Peace of Mind
The primary objective of the HVAC unit is to maintain a comfortable temperature inside the house by regulating both the air temperature and air quality to optimum levels. Once you have hired a professional HVAC maintenance company to service the unit, you will have the peace of mind that your unit will be well taken care of.
So, you can rest assured that the service technician has gone over the checklist, identified problems, and recommended solutions that will save you money in the long run.
Looking to Hire a Downers Grove Heating and Air Conditioning Company for Maintenance, Repairs or Installation in Downers Grove?
Are you currently facing issues with your HVAC unit? Are you looking for a heating and air conditioning service company in Downers Grove? If so, Hearthstone Heating & Air Conditioning is the company to call.
We have been in business since 1996 and have served numerous customers throughout the Downers Grove area. Whether you need a new unit installed or your current equipment serviced, we have the professional experience to help you.
Contact us today to schedule an appointment!