The HVAC system is perhaps one of the most underappreciated (yet vital) pieces of equipment in your Westmont home. When conditions are comfortable, you may take it for granted. However, when things go wrong, it can be a major inconvenience. Your HVAC system has many components that are susceptible to failure — these components wear out over time and need to be replaced by a professional.
You might be wondering: how much does a typical HVAC service call cost? To give you a rough idea, this HVAC maintenance company in Westmont, Illinois is going to provide a breakdown below.
Breakdown of the average HVAC costs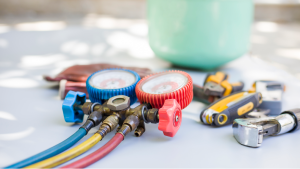 In Westmont, the cost of repairing an HVAC system ranges from $150 on the lower end of the scale to $2,700 on the upper end. The average cost of an HVAC repair visit ranges from $75 to $250 or more, depending on the problem. The average cost of an AC repair is $320, while the average cost of an AC tune-up is $99.
A professional HVAC maintenance company in Westmont, Illinois may charge anywhere from $65 to $150+ per hour for their services — with additional components ranging from $40 to $1000+. This rate is determined by the technicians' level of experience, the type of job they perform, their credentials, and any additional training they have received.
In some cases, a Westmont HVAC company may charge a flat fee for labor only  — often between $50 and $200+. However, this does not cover any components or materials that may be required for the job. On the other hand, the average cost of a job can range from $100 to $1,500+.
Factors that can affect the cost of your HVAC repair and maintenance
It is worth noting that quotes are only estimates of what service and repairs could cost — they are not contractual. It is less expensive to have an HVAC maintenance company in Westmont, Illinois come to your home to make a minor adjustment than to have your entire unit replaced.
Other factors can also impact the cost of this service call. These include:
The age of your HVAC system: Because it is less efficient, an older and outdated HVAC system might need more work. Furthermore, because older systems usually struggle to keep up with modern-day demands, they may experience more frequent failures. As a result, the overall service cost will be higher with older systems.
The size of your home: To adequately cool or warm a larger home, you will need a larger HVAC system with greater capacity. More time and work are required when installing or repairing a larger system. Therefore, an average HVAC repair or maintenance visit may cost you more money if you live in a bigger house.
Where you live: Labor costs can greatly vary depending on where you live, impacting the overall cost of an HVAC service call.
Time of day and weekday: A service visit on the weekend or at night will be more expensive than a visit during regular business hours on a weekday.
Scope of repairs: A minor HVAC repair, such as adding refrigerant to a system running short on it, might cost less than $100. In contrast, replacing a compressor or a faulty blower motor can easily cost $1,000+. The underlying source of the problem may also impact the overall cost of repairs. For example, you may be charged an extra price for the repairs if the problem was caused by your actions, such as adding too much refrigerant to your HVAC system.
Looking for an HVAC Maintenance Company in Westmont, Illinois?
Is your HVAC system no longer running like it should? Looking for the top-rated HVAC maintenance company in Westmont, Illinois? If so, look no further than Hearthstone Heating & Air Conditioning. With our services, you can ensure that your HVAC system will perform reliably all throughout the year.
Contact us today at (630) 435-9800 to request a free quote.