The weather can change frequently in the Western Springs area, and sometimes, one day can be vastly different than the next. Therefore, in order to keep you comfortable indoors, it's important that you have a good heating and air conditioning unit installed.
However, this does not mean that you have to purchase the biggest one on the market. In fact, a bigger unit is not always the best.
In this post, we'll discuss some of the problems with installing an HVAC unit that's too big for your home.
Humidity Control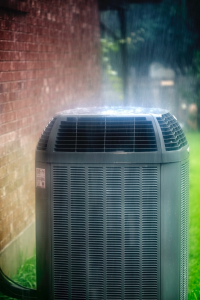 The primary function of the HVAC unit is to keep you warm during the winter months, and comfortable during the hot summer months. However, during warmer weather, as the air conditioner cools the air, it is also responsible for reducing humidity levels. If a larger unit is purchased, it will bring the temperature of the room to the desired level relatively quickly. However, this may not allow enough time to fully remove the humidity from the air, leaving your home feeling wet, sticky, and uncomfortable.
Increase in Mold
Mold spores thrive in the presence of humidity and organic matter, and they can rapidly grow to form a colony. As mentioned above, a larger HVAC unit will leave your home with higher humidity levels, which will provide an ideal breeding ground for mold spores. Mold could spread quickly in such a scenario, and you could soon begin seeing visual signs of mold growth in the home. Mold growth is not only harmful to your property, but it can result in respiratory problems that affect the overall health of the residents.
Noise
A bigger unit is not only going to take up more space, but it's also going to work harder as well. This means that it's going to be noisier than its smaller counterparts. Although a cool room might be favorable for a good night's rest, it might not be worth trading the peaceful ambience of the room with the constant droning of a bigger unit.
Increase in Energy Consumption
Although a larger HVAC unit might keep your home comfortable temperature-wise, it also comes with a heavy price tag. First, it costs more upfront, and second, a larger unit will draw more energy when running, resulting in higher energy bills.
Other Related Problems
Buying a bigger unit is not always the best solution to fix inefficient heating and cooling, as the problem might be located elsewhere in the home. For example, a hi-tech and powerful HVAC system might be of no use if your home lacks basic insulation in the windows, roofing, and walls. Alternatively, if your ducts are leaking, or if the vents are blocked with dirt and debris, the treated air will not be able to reach the room and be effective in providing the desired level of comfort. Therefore, it is best to have your existing unit and your ductwork inspected by a professional before you decide to purchase a bigger HVAC unit.
Does Your Heating and Air Conditioning Unit Need to be Serviced by a Professional Western Springs Heating and Air Conditioning Company?
Are you looking for an HVAC installation and repair company in Western Springs, Illinois? If so, then look no further — Hearthstone Heating & Air Conditioning has all the answers that you seek.
We have been in business since 1996, and over the years, we have served numerous customers throughout Western Springs. If you're looking for a regular tune-up or a system installation, our HVAC technicians are here to help.
Contact us today to schedule an appointment or request a free quote!