Has your home's HVAC system seen better days? Installing a new HVAC system is a significant investment. That's why you'll want to do everything you can to make sure the installation process is as seamless and stress-free as possible. By taking the time to prepare your home before installation, you can avoid any potential delays or issues and ensure that everything goes according to plan.
Below, this HVAC installation company in Lisle, Illinois is going to share some tips on how to prepare your home for an HVAC installation. With the right knowledge, you can feel confident and ready to take on this exciting home improvement project.
Clean and Clear the Work Area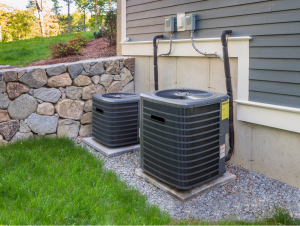 Creating a safe and unobstructed work environment is essential before your HVAC installation company in Lisle, Illinois arrives at your home. Moving any furniture or items that might be in the way beforehand or storing them in another room ensures that the technicians will have enough space to work comfortably and safely. The last thing you want is for technicians to be tripping over furniture or decorations, making the installation process more complicated and dangerous than it needs to be.
Make Sure the System Is Accessible
The installation team needs to have easy access to your HVAC unit and other components like ductwork and thermostats to complete the installation process as quickly and efficiently as possible. You should make sure the area around these components is clear and free of clutter or debris. This will help the technicians work effectively, avoid unnecessary delays, and complete the installation process in a timely manner.
Protect Your Home's Flooring
Throughout the process, your HVAC installation company in Lisle, Illinois will move back and forth between the system and their truck, which can result in dirt and debris being tracked into your home. You may want to consider laying down a drop cloth or plastic sheeting around the work area to prevent any damage to your floors. This will make cleanup easier and protect your flooring from any potential damage.
Inform the Technicians of Any Issues
Before the HVAC installation process begins, make sure to inform the installation team of any issues or concerns you may have about your current system. Letting them know about any problems or potential issues can help them to identify and address these issues before installation begins. This can save you money on costly repairs and ensure your new HVAC system is installed correctly and efficiently.
Schedule the Installation at a Convenient Time
Installing a new HVAC system can be noisy and disruptive, which can be especially challenging if you work from home or have young children. You may want to consider scheduling the installation at a convenient time when you can be out of the house or when it will cause the least amount of disruption to your daily routine. This will make the installation process easier and less stressful for you and your family.
Looking for an HVAC Installation Company in Lisle, Illinois?
Are you ready to have a new HVAC system installed before summer arrives? If so, and if you're looking for the best HVAC installation company in Lisle, Illinois, look no further than the team at Hearthstone Heating & Air Conditioning. We have been providing expert HVAC installation services to homeowners in Lisle and the surrounding areas since 1996. If you're not sure which type of system is right for your home, our team can provide expert advice and guidance to ensure you end up with the best option for your home.
Contact us today at (630) 435-9800 to schedule an appointment.