With the peak of summer behind us, it's now time to get ready for cooler weather. The winter in Westmont is not short-lived, and harsh conditions such as snow, sleet, freezing rain, and low temperatures can damage your air conditioner. The components of your AC system could be subjected to rust, corrosion, and damage from falling tree branches, snow, and ice, so it's important to prepare your system for what's ahead.
Below, this heating and cooling company in Westmont, Illinois is going to discuss some tips that will help you prepare your air conditioner for the winter.
Clean the Unit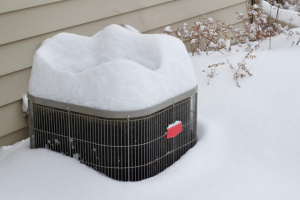 You can begin cleaning the unit by clearing away any branches, leaves, and dead grass around the area. Also, wash and wipe away any dust, pollen, dirt, bird droppings, and dead insects from your AC unit. The next step is to clean the main components of the unit. This includes:
Air Filters
It is common to clean or replace the air filters every one to two months. This is extremely important, because allowing a dirty air filter to remain in your system can lead to a host of issues. So, remember to replace the air filters before you shut off your air conditioner for the winter.
Air Ducts
Examine the air ducts to see if you notice any signs of dust build-up around the intake areas. If you notice a lot of dust, you may want to contact your local heating and cooling company in Westmont to schedule a professional cleaning. If you ignore this issue, the HVAC unit could end up spreading dust, dead skin cells, hair, and pet dander throughout your home all winter.
Air Conditioner Coils
Dust, dirt, leaves, and other contaminants can make their way inside the air conditioning unit, making it difficult for your AC to perform optimally. Even though it is important to clean the coils before using the AC next year, it's wise to clean the coils before shutting off the unit as well.
Condenser Unit
To begin cleaning the condenser unit, make sure the power is turned off. You can then vacuum any debris from the exterior fins and straighten any bent fins using gentle pressure. You can wipe surfaces of the condenser with a damp cloth, or you can spray the fins with a garden hose using light pressure.
Cover the Unit
Once the weather has cooled off and you're done running the air conditioner for the year, it's time to cover the unit. Ensure that the cover does not fit too tight, and that it leaves a bit of room for ventilation to help prevent rusting.
Power Off
Once you have turned the power off, it's best to keep it off for the entire season. The compressor in the condenser unit contains oil that thickens during cold weather. This thickened oil does not allow the AC to run smoothly. As such, it's important to ensure that the unit is not accidentally switched on, as this can cause the compressor to overheat.
It is also recommended that you schedule seasonal maintenance with a professional heating and cooling company in Westmont, Illinois. This will not only prevent problems, but it will also ensure that your unit is prepared to serve you well next year.
Looking for the Top-Rated Heating and Air Conditioning Company in Westmont, Illinois?
Do you need to have your HVAC unit maintained? Looking for the top-rated heating and air conditioning company in Westmont, Illinois? If so, Hearthstone Heating & Air Conditioning is the company to call.
We have been in business since 1996, and we've worked with numerous homeowners throughout the Westmont area over the years. Whether you just need a regular tune-up, or you're dealing with a major HVAC problem that needs to be repaired, our technicians can get the job done right.
Contact us today to schedule an appointment.