Heating, ventilation and air conditioning (HVAC) companies provide a wide range of services for commercial as well as residential properties. Their services help in improving the functionality of equipment, reduce utility costs, and increase the lifespan of HVAC units.
In this post, we'll discuss the major services provided by an heating and air conditioning company in Hinsdale, IL:
Hinsdale Air Conditioner Cleaning and Maintenance

The HVAC company will provide regular HVAC cleaning and maintenance that will help to keep your AC running efficiently and smoothly in the hot summer months. Some of the cleaning steps performed by them may include:
Changing or cleaning the air filters
Removing dirt and debris buildup from the unit
Cleaning the air conditioner's coils
Straightening the coil fins
Energy Audit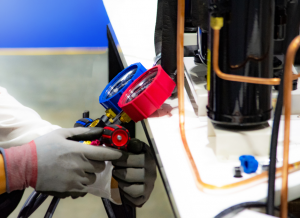 Energy audits help to gauge if your HVAC equipment is working efficiently. Various parameters such as heat loss, heat gain, adequate ventilation, and energy efficiency can be evaluated by HVAC companies to determine if the equipment is adequate for cooling and heating your home or commercial property.
Programming the Thermostat
Programmable thermostats are now available that can save you a great deal of money on utility bills by conserving energy when you are away. The unit can be programmed by an HVAC professional to switch off when you leave the house, and switch on automatically when you return. This will ensure that there is no excess energy spent, which helps you save energy while increasing the lifespan of your system.
Ductwork Installation and Repair
Although separate ductwork companies specialize in ductwork cleaning and repairs, some HVAC companies may also include ductwork inspection and repair as part of their service plan.
Water Heater Servicing
 An HVAC company can ensure that the water heater is well maintained, and that there's no obstruction due to the accumulation of dirt or debris. This will ensure that the furnace and heating system run at optimum efficiency.
Humidifier Settings
It's important that the humidifier settings are properly set so that the house does not feel hotter than the outside temperature. If this happens, it would require the air conditioner to work harder to provide the same cooling effect. Ideally, the humidifier should be set at 35%, but changes can be made based on outside weather conditions or according to manufacturer recommendations.
Home Insulation
Regular insulation inspection is important to ensure that there are no leaks present in the HVAC unit. This can go a long way in saving energy and money on utility bills. A well-insulated house will require less heating and cooling, and it will also reduce the burden on the HVAC system.
Recommendations for Upgrading Equipment
If your HVAC unit needs replacement, it is important to seek the help of a professional who can determine the right equipment for your home or office. Hiring a professional who is trained to assess the needs of your property and recommend an HVAC unit that's both cost-effective and energy-efficient can go a long way in providing you the heating and cooling you deserve for many years to come.
Have Your Heating and Air Conditioning Servicing, Maintenance and Repair Done by a Professional Company in Hinsdale!
Are you looking for a heating and air conditioning company in Hinsdale, Illinois? If so, you're in the right place. Hearthstone Heating & Air Conditioning has all the answers that you seek.
We have been in business since 1996 and have served numerous homeowners and businesses throughout Hinsdale. Whether you only need a regular tune-up or a problem fixed, we have the HVAC experts to help you. That is the primary reason why we're the most trusted name in DuPage County.
Contact us today to schedule an appointment!