It won't be much longer before winter sets in, so it's important to make sure that your heating system is ready to operate in an optimal, safe, and energy-efficient manner to serve you well throughout the colder months.
To avoid any discomfort or disappointment when you switch on your heating system as winter sets in, it is best to have an HVAC professional come in and inspect your system before the temperatures drop.
In this post, we're going to discuss some key tips you can use to get your heating system ready for winter in your La Grange home.
Frequently Change Filters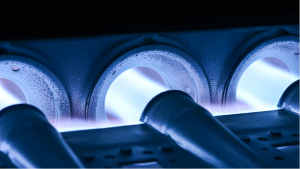 Most furnaces and heating systems generally use disposable air filters. It is recommended that you change these filters every 1-2 months. If you live in an area where the climate is more dry or dusty, you may want to think about changing your filters more often. This will help in maintaining the performance of your heating system.
Clear Your Intake Pipe
Furnaces built with the latest technology are designed to be efficient, as they generate more heat with less energy. To accomplish this, they need an external intake pipe for increased air supply. Any blockages to this pipe will not only reduce the efficiency of the furnace, but it can also cause carbon monoxide to build up. If your home has a high-efficiency furnace, it's best to make sure that the intake pipe is free of any bird nests, snow, ice, or debris.
Clean the Blower Motor/Heat Exchanger
The blower motor also needs to be cleaned regularly. However, you'll first want to check the owner's manual to see if it also needs lubrication. If so, turn off the power, open the cover, and clean the caps covering the bearings. After that, remove the caps to lubricate the bearings and replace the caps as before.
The heat exchanger is an important part of the furnace, and it should be vacuumed or brushed out annually by a trained professional after the unit is disabled.
Clean the Surrounding Area of the Unit
It is important to clear the furnace and vent areas of any items that could block air flow, such as furniture. Also, check to make sure no curtains or drapes that are blocking the free flow of air from the vents.
Additionally, heating appliances can get very hot, and therefore, it is best to avoid placing any type of chemicals or cleaning agents that are flammable near the vents.
Install a Programmable Thermostat
A programmable thermostat is a great way to ensure that your furnace runs only as per the demands of the house. It can be programmed to automatically turn on and off at certain times of the day in order save energy.
Schedule Preventive Maintenance on Your La Grange Heating and Furnace System
Although you can perform some preventive maintenance on your own, it is best to have a licensed HVAC technician perform any major maintenance. If you notice any rattling or unusual sounds coming from the heating system, or any moisture build-up on the vent pipe or windows, it could indicate an issue with the system. A preventive maintenance contract could also be signed with a La Grange heating company to perform annual or bi-annual HVAC maintenance.
Are You Looking to Hire a Heating and Air Conditioning Company in La Grange?
Are you currently facing issues with your heating unit? Are you looking for a heating installation and repair company in La Grange, Illinois? If so, Hearthstone Heating & Air Conditioning is the company to call.
For over 25 years, we have been the most trusted heating and cooling company throughout the La Grange area. If you are looking to install a new HVAC unit or have your current equipment serviced, we are here to help.
Contact us today to schedule an appointment!