It's not uncommon for homeowners to experience issues with their heating system this time of year. In these situations, some homeowners may try to fix the issue themselves to save money. Unfortunately, if you don't know what you are doing, you might end up making a costly mistake.
To help you avoid major issues, this heating repair contractor in Clarendon Hills, Illinois is going to review some of the most common DIY heating repair mistakes you should be aware of.
Shutting Off All the Vents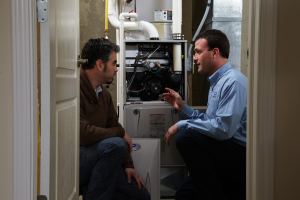 Blocking room vents is one of the most common and costly DIY heating repair mistakes. While homeowners think they are saving energy by closing off the air vents in their rooms, they are doing more harm than good. The HVAC system will still use the same amount of energy, but the pressure in the ventilation system will increase, which can cause the ducts to start leaking.
When air vents are blocked, the air can no longer flow freely throughout the home, making it more difficult for the HVAC system to do its job properly. Additionally, when air is not circulating, it can cause condensation and moisture buildup in the walls and ceilings. This can lead to mold growth, structural damage, and poor indoor air quality.
Blocking room vents is an easy mistake to make, but one that could end up costing you a lot of money down the line. Your heating repair contractor in Clarendon Hills, Illinois will recommend making sure all your air vents remain open and unobstructed so that your HVAC system can run efficiently.
Cleaning the Coils
Cleaning your HVAC coils is essential to ensuring they function at optimal capacity. However, there are some mistakes you should avoid when cleaning these components.
First, don't use a hose to clean the outdoor condenser cabinet. The coils inside are delicate, and unfortunately, using water pressure could cause damage. Instead, you should detach the coils and use chemicals specially designed for cleaning them. Additionally, refrain from using cloth and cleaning supplies to clean the coils, as these products can cause further damage.
It is also important to note that you should only attempt to clean your coils if you are comfortable doing so. If unsure about the process, it is best to call a professional heating repair contractor in Clarendon Hills, Illinois to complete the job. Cleaning coils requires attention to detail and knowledge of the system, and a professional can ensure that your coils are cleaned safely and effectively.
Adding More Refrigerant
If your heating system is not working properly, you may think adding more refrigerant is the answer. However, it is important to remember that this is a job for professionals and attempting to do it yourself can be risky and costly.
Though you can purchase refrigerant tanks online, it is best to leave this task to the professionals with the know-how and experience to correctly diagnose your system and determine if more refrigerant is necessary.
Putting too much refrigerant in your heating system can result in serious damage over time. An overcharged AC will eventually break down, leading to costly repairs. Attempting DIY repairs can also void any existing warranties on your system, meaning you will have to pay for future repairs out of pocket.
Installing the Wrong Thermostat
When replacing your thermostat, it is important to remember that the new model may not be compatible with your existing system. Even if you find a great deal online, it can cost you a lot more in the long run if it damages your equipment or voids the warranty. It is important to consult with a professional heating repair contractor in Clarendon Hills, Illinois before attempting to install a new thermostat yourself.
If you do decide to proceed with the installation, read through the instructions thoroughly and check for any compatibility warnings that may apply to your specific system. It is also important to take special care when wiring the thermostat to your existing equipment. A mistake here could cause irreparable damage.
Final Thoughts
When it comes to heating repair, it pays to leave the work to the professionals. DIY heating repairs may seem like an economical choice, but they often lead to costly mistakes that can be avoided with the help of a qualified technician. Not only will a professional have the knowledge and experience needed to complete the job safely and correctly, but they can also save you time and money in the long run.
Looking for the Top-Rated Heating Repair Contractor in Clarendon Hills, Illinois?
Are you dealing with issues with your heating system? If so, and if you're looking for the top-rated heating repair contractor in Clarendon Hills, Illinois, look no further than the professionals at Hearthstone Heating & Air Conditioning. Contact us today at (630) 435-9800 to schedule a service.