Spring is almost here, but that doesn't mean it's time to switch off the heating system in your Wheaton home just yet. Unfortunately, many older heating systems start to show their age this time of year, as they've been consistently running for the last several months.
When your old heating system breaks down, you'll be forced to decide whether it makes more sense to have it repaired or replaced. To help you make an informed choice, this heating repair company in Wheaton, Illinois is going to discuss some of the key factors you should consider below.
Age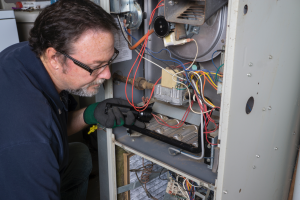 The first factor to consider is the age of your heating system. A heating system's average lifespan is 15 to 20 years — beyond that, the system starts to fail more frequently. Repairs should do the trick if your heater is less than ten years old. However, if it has already been in your Wheaton home for over 12 years, it may be time to replace it. In these situations, it doesn't hurt to get an opinion from your local heating repair company in Wheaton, Illinois.
Frequency of repairs
How often do you have heating problems that you cannot solve without calling an HVAC technician? A higher frequency might suggest that your heating system can no longer bounce back. Trying to keep an unreliable heater running means you could be without heat on freezing days — and it could also end up costing you more in the long run. Keep these guidelines in mind:
Repair is your best option if the repair cost is less than one-third of the cost of a new heating system.
If you have had repairs on your heating system, but they have not kept it running for years, it is time to replace it.
Soaring electric bills
If your electric bills are soaring without an increase in consumption, your heating system's efficiency is most likely on the decline. Your heater may be working twice as hard to provide the same amount of heat. This indicates that it is time to contact a professional to determine your course of action. Consult your heating repair company in Wheaton, Illinois to find out if a simple thermostat or ductwork upgrade will fix the problem — or if it's time to replace your old heating system with a new energy-efficient model.
Strange noises
Older heating systems tend to work harder, resulting in strange noises like rattling, banging, thumping, buzzing, hissing, clicking, grinding, clunking, squealing, and humming. This can also cause your heater to be unable to effectively moisturize the air, resulting in dry, stale air in your Wheaton home. This means that a replacement is warranted.
Burner flame
A gas furnace will produce a blue flame with a yellow color at the top. However, if the flame is yellow, it could indicate incomplete combustion — your heating system may be emitting toxic carbon monoxide. In this case, it's strongly recommended that you contact a heating repair company in Wheaton, Illinois as quickly as possible. A minor repair may be necessary, but it could also be a sign that your heater has (quite literally) burnt out.
Schedule a professional inspection to identify what repairs, if any, are required to keep your heating system running at peak performance when needed. When the freezing winter arrives, the last thing you want is to find that your heater needs substantial repairs or replacement.
Looking for a Professional Heating Repair Company in Wheaton, Illinois?
Does your heating system need to be repaired or replaced? If so, Hearthstone Heating & Air Conditioning is here to help. As the top-rated heating repair company in Wheaton, Illinois, you can count on our technicians to get your heating system up and running whenever you need us. Contact us today at (630) 435-9800 to schedule an appointment.