Any type of water leakage in your home could result in costly damages. A lot of money could be spent on the restoration process, not to mention the time-consuming tasks and frustration that comes along with the repairs.
If your Burr Ridge furnace is showing signs of water leakage, it will eventually stop being functional, and your house temperatures will begin to drop shortly thereafter. In order to begin the investigation of the leak, turn off the furnace, set the thermostat to "Off", and turn the shut-off valve located on the gas line.
Here are some of the common reasons a furnace will leak:
1. Humidifier Leak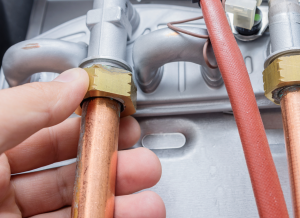 Some furnaces have humidifiers built into them. There could be a possibility that the built-in humidifier of the furnace is clogged and has developed a leak somewhere in it. Once you have visually determined that the furnace has a built-in humidifier, look for any clog or leaks at the drain line, water feed tube, or water tap line.
The function of the humidifier is to add moisture into the air that is sent into the room. Therefore, a leaky or clogged humidifier could also cause a pool of water to form around the furnace.
2. Condensation Leak
This is a common reason for leaks, especially for high-efficiency furnaces. A high-efficiency furnace runs on an AFUE rating of 90 or above. These furnaces produce more heat with the help of two heat exchangers. This results in a lot of condensation being generated that needs to be carried out of the house via pipes and a floor drain. If these pipes are either clogged or broken, water will condense around the base of the furnace. This water can collect and pool up, creating considerable water damage.
3. Plumbing Leak
There's a possibility that finding water near the furnace could mean that there's an issue with the plumbing, and not with the furnace itself. However, the leak in the system still needs to be addressed. The broken or clogged pipe needs to be repaired or replaced in order to avoid backup in the drainage system. This will restore the continuous flow of water without any leakage.
4. Heat Exchange Problem
Furnaces also create heat via a heat exchange process, which results in the formation of condensate. Ideally, this condensate is drained safely out from the condensate line and drain trap. A puddle around the furnace can be formed if there's a leak or clog in the condensate lines.
5. Air Conditioner Leak
If you are in a seasonal transition period and are using the air conditioner and furnace on alternating days, it might not be the furnace that is leaking water. In such cases, the air conditioner might be the real culprit. Air conditioners also have condensate lines and a drain pan. If these lines have a leak or a clog, it might appear as though the furnace is the source.
6. Clogged Filter
Although not very major, a clogged filter could also result in leakage to some extent. As a best practice, your furnace filter should be replaced every 60 days. The furnace filter should be replaced immediately after repairs are completed and the furnace is planned to turn back on. A clogged or dirty filter will restrict airflow and put extra strain on the furnace.
Looking for a Company to Fix Your Heater, Boiler or Furnace in Burr Ridge?
Are you currently facing issues with your heater, boiler or furnace? Are you looking for a heating repair and installation company in Burr Ridge? If so, Hearthstone Heating & Air Conditioning is the company to call.
We have been in business since 1996 and have served numerous customers throughout the Burr Ridge area. If you want a new furnace, boiler or heater installed or your current HVAC equipment serviced, we have the professional experience to help you.
Contact us today to schedule an appointment!