A common mistake made by homeowners is that they surround their HVAC unit with too many items, or they try to cover it up with upholstery or furniture. It is important to keep your HVAC unit free of clutter for a number of reasons, as it can lead to a range of problems:
Loss of energy efficiency
Damage to the unit
Poor indoor air quality
Fires
In this post, we're going to discuss several reasons why it's important to keep your heating and air conditioning unit in Woodridge clutter-free.
Improved Airflow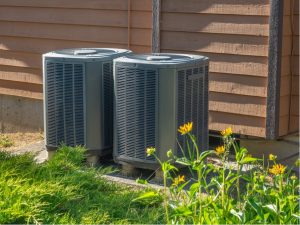 It is generally very easy to determine when your HVAC unit is not working properly. For example, even though you may have set a specific temperature on the thermostat, you may not feel the temperature changing.
When this happens, your HVAC contractor will almost always tell you that there's a problem with the airflow. Most of the time, this problem can easily be fixed by making sure the vents are not clogged or jammed, and that the area in the vicinity of the HVAC unit is completely free of clutter.
Easy to Repair
Clutter around the HVAC unit makes it tough for a heating and cooling technician to do their job. If there is very little room to move around the area, the technician will have a difficult time accessing the unit, finding the cause of the malfunction, and repairing it.
Energy Efficiency
Having clutter around the HVAC unit can lead to an increase in your energy bills. If the unit does not have sufficient airflow, it will be forced to work harder, which will use up more energy.
Safety
Clutter near the HVAC unit can also be a fire hazard. In situations where an HVAC unit catches on fire, more often than not, the fire is a result of an obstruction near the unit. It is strongly recommended that you do not store any linens or highly flammable items near your HVAC unit to avoid any potential dangers.
Good Health
When an HVAC unit is cluttered, any nearby contaminants can easily enter the system, which can affect the air quality inside the home. These contaminants could be dirt, dust, odors, mildew, or mold. These types of contaminants can affect the health of residents who have pre-existing asthma or respiratory problems.
In addition to keeping the surrounding area clean, it is also recommended that you have the unit inspected at least once per year to ensure the safety of the residents.
Improved Air Quality
A number of air quality issues can be aggravated due to clutter. For example, it is easy for mold to thrive in a cluttered environment. Moisture can be easily trapped in a space where there is clutter, which is what mold needs to thrive. Several different types of mold can grow on materials found in households, including carpet, wood, insulation, drywall, cardboard, and more.
For example, let's consider a situation where there's a leak in your roof. In a clean space, it will most likely be noticed, addressed, and repaired relatively quickly. If the area is cluttered, however, the source of the leak may not be detected right away, which can lead to the issues described above.
Take Advantage of your Local Woodridge Heating and Air Conditioning Company
Do you want to have your Heating and Air Conditioning unit serviced or repaired in Woodridge, Illinois? Are you looking for a reputable heating and air conditioning company to get it done? If so, the experts at Hearthstone Heating & Air Conditioning can help. Backed by a professional team of HVAC specialists, we've been serving the Woodridge neighborhood since 1996.
Contact us today to discuss your needs!