HVAC maintenance in Westmont, Illinois is an essential responsibility for all homeowners. To properly maintain your HVAC system, there are several things you should be aware of. This heating and cooling company in Westmont, Illinois is going to explain everything you'll need to know below.
Common HVAC System Issues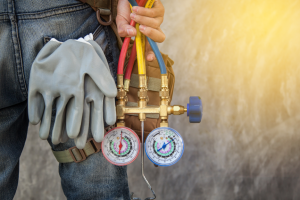 Here are some of the common problems you may encounter if you own an HVAC system in Westmont, Illinois.
1. Leaks
Leaks happen when the drain line is clogged due to dirt, mold, debris, or fungi. Any system that has a drain line and HVAC connector are susceptible to developing leaks. When leaks occur, they can affect the efficiency of your equipment, which could ultimately result in a broken HVAC system.
2. Corrosion
When wiring combines with moisture, there is always the possibility of encountering a corrosion problem. When this happens, it can cause your HVAC system to turn on and off sporadically, which then forces your heating or cooling system to work double time. If left unchecked, it can damage your appliance.
3. Collection of Dirt and Debris
All components of your heating and cooling system can collect dirt, dust, and debris over time. If you don't have your HVAC systems cleaned regularly, it can affect the air quality negatively and pump out allergens.
Essential HVAC Maintenance Checklist
To avoid any detrimental HVAC problems, you should have your systems inspected regularly by a professional heating and cooling company in Westmont, Illinois. Here are the essential items that should be part of every HVAC maintenance checklist:
Thermostat assessment: The temperature should be set at an optimal setting to keep a comfortable environment and conserve energy.
Electrical connection: All electrical components should be connected correctly, which should be reflected in the current readings and voltage usage.
Lubrication: This helps save energy by reducing resistance.
Drain examination: To avoid leakage, the drains should be checked regularly. If there are items clogging the drain, they should be removed immediately by experts.
General operation: A heating and cooling technician in Westmont, Illinois should check if all the functions are working properly from the moment the appliance is turned on to when it's turned off.
Air filter check: The air filter should also be checked during the inspection to maintain good air quality and continuous airflow. If it's clogged by dirt and debris, it should either be cleaned or replaced.
HVAC Maintenance Tasks
After the initial inspection, the expert will instruct you on maintenance tasks you need to do to keep your systems in optimal condition. These include:
Replacing the air filter every two months
Cleaning the humidifier during the fall
Lubricating the internal components of your HVAC system
Replacing the fan belt if it's not running properly
Cleaning your condensation drain lines
Although you can accomplish these tasks independently, some tasks involved in maintaining heating and cooling systems require professional help. For instance, fixes and adjustments in relation to electrical components can be quite dangerous for inexperienced individuals. So, be sure to leave the more complex tasks to the trained technicians.
Looking for the Premier Heating and Cooling Company in Westmont, Illinois?
By following the HVAC maintenance tips reviewed above, you can avoid common HVAC issues and keep your system running smoothly. If you would like to hire a professional to help with your HVAC maintenance tasks, Hearthstone Heating & Air Conditioning is the company to call. As the top-rated heating and cooling company in Westmont, Illinois, you can count on our technicians to provide the highest level of care for your system. Contact us today at (630) 517-5460 to request a free quote.