Spring will be here before you know it! This means you will soon be busy cleaning out the attic, getting rid of old belongings, and organizing the garage. However, this is also the time when you should pay attention to your HVAC unit. Doing so can help you save a lot of money on your energy bills.
In this post, we'll discuss some of the ways in which you can lower the energy consumption of your heating and air conditioning system in Clarendon Hills, Illinois.
1. Increase Ventilation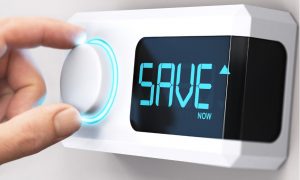 During spring, the outside air starts to get warmer. So, before you switch on the air conditioner when it gets warm, you may want to consider opening up your windows. Let the outside breeze keep your home comfortable. Similarly, on a cool day, you can use the natural heat of the sun to warm the house by opening up the curtains and blinds. If it gets too warm inside, you can always close the shades to block out the heat from the sun.
2. Switch on the Fan
Ceiling fans can be used very effectively during the spring to make your home comfortable, and to eliminate the need to run your HVAC unit. Since hot air is lighter, it rises up to make the upper floors of the home warmer. When this happens, a fan is useful for circulating the air to maintain a comfortable indoor temperature.
3. Use the Thermostat Wisely
The changing season provides a great opportunity to save some money on your energy bill!
Try to set the temperature on the thermostat a little cooler or hotter than you normally would. Even a 5°F difference in cooling or heating requirement can significantly reduce your home's energy usage.
If you are feeling cold, see if you can add a few layers of clothing before you change the thermostat. By using this strategy, you will find that even though the winter has grown harsher, or the summer has grown hotter, you now have a greater tolerance for the change in outside temperature, all while putting money back in your pocket.
4. Have the Clarendon Hills Heating and Air Conditioning Unit Professionally Serviced
It's important to keep in mind that spring cleaning does not just involve mopping, dusting, and getting rid of unused items. It's also a great time to clean your HVAC unit. Your system will run more efficiently when it is clean and well-maintained. Call your HVAC technician for a routine tune-up, which includes changing the filters and making sure all the vents and fans are clear of dust.
Ideally, you should have your HVAC unit serviced twice per year. It is recommended that you have the heating unit inspected at the beginning of fall, and the air conditioning unit inspected at the onset of spring. In addition to changing the air filters, the HVAC technician will examine the system to see if it needs any repairs, and they'll check for any energy inefficiencies.
Also, if you use an older thermostat, the spring is a good time to look into upgrading to a programmable thermostat that can automatically turn the air up or down to control room temperature. Your HVAC technician will be happy to discuss your options with you.
Have Your HVAC Serviced by a Professional Clarendon Hills Heating & Air Conditioning Company!
Are you looking for a heating and air conditioning company in Clarendon Hills, Illinois? If so, Hearthstone Heating & Air Conditioning is the company to call.
We have been in business since 1996, and over the years, we've served numerous homeowners throughout the Clarendon Hills area. Whether you need a regular HVAC tune-up, repair, or replacement, our experts will be there to help.
Contact us today to schedule an appointment!