Fall is officially here — the summer is behind us, and it won't be long before we're digging our winter coats, sweaters, and hats out from storage. It is also the time of the year when the air conditioner gets a break, and the furnace will need to get going. For homeowners, it's important to make sure the furnace is prepared to serve you well throughout the upcoming cold months.
Below, this heating and cooling company in Darien, Illinois is going to provide some tips that will help you prepare your furnace for freezing temperatures.
Replace Your Filters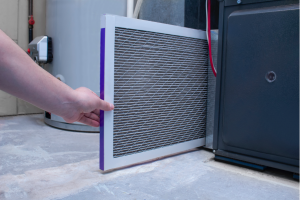 The change in seasons is a great time to replace your indoor air filters. The air filters often get clogged with dust, debris, and allergens during the spring, which can impede the functionality of the system. Replacement filters can be purchased from your local hardware store, but before you go out and purchase them, make sure you check your existing filters and make note the type and size of the filter. An improper or mis-sized filter can cause a great deal of damage to your HVAC system.
Clean the Vents
Like the filters, the vents can accumulate debris, dirt, and other particles of hair and dander. These vents can quickly be cleaned with a wet cloth. However, if your vents become dirty again shortly after cleaning them, then it could be a sign that your air ducts need to be cleaned. If you are looking for a professional air duct cleaning service, your local Darien heating and cooling company can help.
Inspect the Unit
This is an easy DIY task that you can carry out on a weekend before fall sets in. Conduct a visual inspection of the unit to see if there is any visible damage. Replace any damaged components, clean the unit (if necessary), and make sure the vents are unobstructed before your first test run of the furnace.
Schedule a Professional HVAC Maintenance in Darien, Illinois
It's recommended that you schedule a furnace maintenance check with a licensed heating and cooling company in Darien before the onset of fall. Some of the services that are commonly included during furnace maintenance checks include the following:
Inspecting the heat exchanger: The heat exchanger is checked for any signs of rust or cracks, as this could cause poisonous gases — such as carbon monoxide — to leak into the home
Inspecting the flue: The harmful gasses that are created during combustion, such as carbon monoxide and carbon dioxide, are removed through the flue. Therefore, it important that the flue is clean and shows no signs of leakage
Pressure readings: Low-pressure readings indicate signs of a leak, and an inefficient furnace
Testing the burner: The color and shape of the burner can indicate potential problems
Thermostat calibration: Correct calibration of the thermostat can help save energy
Electrical connections: All circuits and electrical connections are checked
Testing moving parts: Moving parts of the furnace are checked and lubricated (if necessary)
A well-maintained and serviced furnace will not only help you heat your home effectively and efficiently, but it will also help you get the most out of your furnace.
Looking for the Most Trusted Heating and Air Conditioning Company in Darien, Illinois?
Are you currently facing issues with your furnace? Are you looking for the premier heating and air conditioning company in Darien, Illinois? If so, you've come to the right place — Hearthstone Heating & Air Conditioning is here to help. Whether you want to install a new furnace, or have your current heating system maintained, our HVAC technicians can get the job done right.
Contact us today to learn how we can help.