Fall is around the corner, which means homeowners in Darien should start thinking about making the necessary preparations to get their homes ready for the upcoming colder months. Out of the many areas in your home that need attention in fall, one area that some homeowners tend to overlook is their heating and air conditioning unit.
The change in season and unpredictable weather are more easily managed when you are prepared for it. In this post, we're going to discuss five ways to get your HVAC system ready for the fall season.
1. Check the Air Filters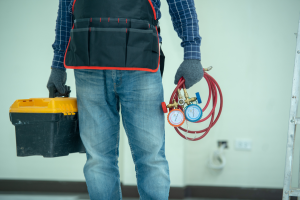 Clean air filters are vital to ensure smooth and fresh airflow from the vents into the rooms. For the longevity of the HVAC unit, to prevent breakdowns, and to increase the efficiency of the unit, it is recommended that you replace the air filters every two months or so. If you suffer from allergies or have pets in your home, you should think about changing the air filters even more frequently. This is not something you'll want to overlook — a clogged air filter can cause the HVAC unit to work harder, thereby increasing your energy bills.
2. Clean the Air Ducts and Vents
Air ducts and vents allow air to travel throughout your home. If the air ducts are blocked or obstructed in any way, it will cause the HVAC unit to work harder, which decreases the system's lifespan and efficiency.
To make sure that the air in your home is being properly circulated, make sure you keep the vents open, and also clean your air ducts and vents regularly. First, make sure there are no obstructions in front of the vents, such as curtains or furniture, and then vacuum the surrounding area. After that, you can wipe the area with a wet cloth to remove any residual dust left behind by the vacuum.
3. Check the Burners and Blowers
Burners and blowers are the most critical components of the HVAC unit, as they are responsible for generating heat. Fall is the best time to test them to make sure they will serve you well throughout the winter months. It's important to first clean the furnace of any dirt accumulation that may have built up during the summer months before you switch it on for a test run. If you hear unfamiliar sounds, or if you notice a strange smell, it is best to have the furnace inspected by a technician as soon as possible.
4. Clean the Outdoor Unit
Fall is a good time to check the outdoor unit for any damage caused by the elements. We also recommend taking some time to trim any shrubs, trees, or tall grass that might have grown too close to the exterior unit before the winter sets in.
5. Schedule Darien Heating and Air Conditioning Maintenance
It is recommended that you have your HVAC unit serviced at least twice a year by a professional, and fall is a great time to have this done. During scheduled maintenance, the technician will check the unit's parts to ensure that everything is operating properly — this includes checking the filters and replacing them if necessary. This not only gives you peace of mind that the HVAC unit will serve you well during the winter months, but it will also ensure that any unforeseen problems that might have occurred are addressed promptly.
Are You Looking to Hire a Heating and Air Conditioning Company in Darien?
Are you currently facing issues with your HVAC unit? Are you looking for a heating service company in Darien, Illinois? If so, Hearthstone Heating & Air Conditioning is ready to serve you.
Having been in business since 1996, we have served numerous customers throughout the Darien area. Whether you're thinking about having a new unit installed, or you simply need to have your current HVAC system serviced, we are the company to call.
Contact us today to schedule an appointment!