Although annual furnace maintenance is strongly recommended, most homeowners rarely stick to their maintenance schedules. If you find yourself guilty of this mistake, then you've come to the right place. This article is meant to help you understand the importance of properly maintaining your furnace.
In this post, this heating and cooling company in Willowbrook, Illinois is going to discuss the benefits of having your furnace tuned-up by a professional every fall.
Safety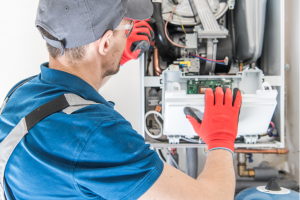 Most furnaces produce heat by burning fuel. To keep the furnace operating at optimal efficiency, the combustion process needs to happen carefully and accurately. If the furnace has any cracks or leaks, it can elevate the carbon monoxide to harmful levels. During a furnace tune-up in Willowbrook, Illinois, the HVAC technician will inspect the gas burner, gas valve, and heat exchanger, which are all critical to the operation of the furnace. Safety is the top priority, and furnace tune-ups are important to make sure everything is running smoothly.
Avoid Breakdowns
As a homeowner, one of the last things you want is for your furnace to breakdown during a cold winter night. If this happens, you'll most likely be left calling your local Willowbrook heating repair company for an emergency repair. Emergency HVAC services are not only expensive, but they're not always readily available.
Heating and cooling companies in Willowbrook that offer 24/7 emergency repair services sometimes have a limited number of technicians. This could leave you stuck in a frigid house for hours before help finally arrives. With regular furnace maintenance, you can identify potential issues in advance to avoid sudden breakdowns.
Savings
During the peak winter months in Willowbrook, a furnace can account for close to half of a home's energy usage. An annual tune-up will help keep your furnace running smoothly. Additionally, if you install a programmable thermostat and regularly change your air filters, you can enjoy further savings on your energy bill.
Comfort
During a furnace tune-up, your HVAC technician will check the heating system to ensure there is proper airflow. Adequate airflow is vital for a furnace to run at maximum capacity. If the airflow is restricted, it can cause more strain on the furnace, which can lead to more frequent breakdowns and a shortened lifespan. Proper airflow will ultimately help keep your home more comfortable.
Increased Lifespan
Scheduling annual furnace tune-ups is one of the best ways to increase the lifespan of your furnace. An annual check-up also involves cleaning the components of the system, checking the connections of the circuit, and lubricating the moving parts of the unit. All of this helps to maintain the furnace in good health for a longer time.
Maintains Your Warranty
In some cases, scheduling a regular furnace tune-up in Willowbrook will allow you to maintain the manufacturer's warranty. A ten-year warranty is sometimes offered with certain high-quality furnaces that are available today. If your furnace breaks down, and if you need to redeem the warranty, you will need to show service records to prove that you've kept up with the recommended maintenance. If you don't have the service records, certain repairs or replacement may not be covered.
Does Your Furnace Need a Tune-Up? Contact the Top-Rated Heating and Air Conditioning Company in Willowbrook, Illinois
Do you want to make sure your furnace is prepared for the upcoming fall and winter seasons? If so, and if you're looking for the top-rated heating and air conditioning company in Willowbrook, Illinois, look no further than Heating & Air Conditioning.
Whether you'd like to schedule routine maintenance for your furnace, or you'd like to replace your furnace altogether, our HVAC technicians know how to get the job done right. Contact us today to schedule an appointment.