During the winter months, homeowners in Westmont, Illinois depend on their furnace for maintaining comfortable room temperatures. Most homeowners know the importance of getting their furnace regularly serviced, but few take it as seriously as they should.
Furnace servicing and maintenance contractors do more than just tune-ups. While it's ideal to perform them before winter sets in, it's never too late to have a professional inspect your furnace.
Here are 5 reasons to have your furnace serviced annually in Westmont, Illinois:
1. Energy Efficiency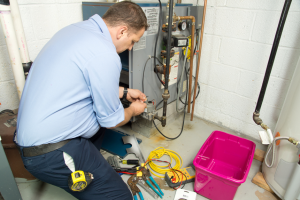 The furnace can account for over 50% of your home energy costs, which adds up over the long winter months. Therefore, a working furnace must be an efficient one. Initially, when a furnace is installed, everything should operate smoothly for a few years. However, over the course of time, if left unchecked, the furnace equipment can lose efficiency and drive up your energy bills.
Annual maintenance of your furnace involves tune-ups, changing air filters, and checking for adequate air flow. All of these measures can reduce your energy bill by up to 30% while also extending the life of your furnace.
2. Safety
An old furnace can pose a risk to you and your home if it is left unattended for a long period of time. Since furnaces burn fuel to generate heat, it is important to ensure that the combustion process is efficient and there is no gas leakage.
An unchecked furnace could also result in carbon monoxide (a byproduct of combustion) emissions that are extremely hazardous to health. A regular check-up will give you the peace of mind that your furnace is running as intended.
3. Less Repairs
A routine check-up of the furnace can help you catch problems before they arise. A few alterations and minor changes, when done early on, can prevent a huge labor-intensive project down the road. This could save you a lot of money on emergency repair costs in the future.
Regular annual maintenance can also increase the lifespan of your furnace, helping you get the most out of your investment.
4. Maintain Manufacturer Warranty
Regular furnace maintenance also helps you in maintaining the manufacturer's warranty. Most high-quality furnaces from well-known manufacturers comes with a 10-year warranty. Since a well-maintained furnace can last as long as 20 years, it's important to have regular check-ups done to ensure that your system qualifies for the warranty.
If your furnace were to break down and you needed to cash in on the warranty, the manufacturer will ask for service records to prove that you have taken adequate care of the furnace. If the system was not regularly maintained, you could lose out on the offer provided by the manufacturer.
As the old adage goes, it's better to be safe than sorry, and the same applies for regular furnace maintenance.
5. Stay Warm, Stay Comfortable
An annual furnace servicing ensures that the furnace is capable of serving you for the entire season. This maintenance usually covers more than just a tune-up. A professional will have a checklist of items such as electricals, switches, connections, air flow, dust and residue removal, valve clean up, and more.
All of this helps your furnace run without any resistance and assures you a smooth, functional furnace throughout the entire winter. One of the last things you would want is to be woken up freezing in the middle of the night due to a furnace breakdown.
Take Advantage of your Local Westmont Furnace Cleaning and Maintenance Services
Are you looking to service your heater or furnace? Are you in need of furnace repair services in Westmont, Illinois? If so, Hearthstone Heating & Air Conditioning can help. With our team of professional technicians, we have been serving Westmont and its surrounding suburbs since 1996.
Contact us now to set up an appointment and discuss your needs!