As a homeowner, one of the last things you want to come home to on a cold winter night is to find that your furnace is no longer working. This can be a nightmare scenario for any homeowner, which is why it's best to take precautions to avoid it.
Unfortunately, many homeowners don't pay attention to their heating system until it's too late. It happens all too often — your furnace breaks down, and you and your family members are forced to bundle up while you wait for the emergency HVAC technician to arrive.
In this post, we're going to discuss some essential tips that will help increase the lifespan of the furnace in your Oak Brook home.
Avoid Air Leaks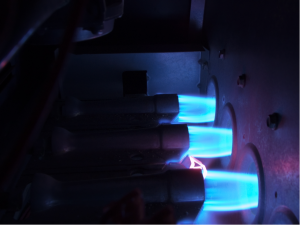 Air leaks can be a major source of wasted energy. Air leaks not only drain your house of warm air, but these leaks also force the furnace to work longer and harder, resulting in a reduction of the furnace's lifespan. You'll want to make sure that all areas of your home (including the front door, windows, exhaust fans, and any small gaps and intrusions) are adequately sealed and insulated. This is one of the best things you can do to improve the comfort of your home, as well as the lifespan of your furnace.
Replace the Air Filters
Air filters in the furnace need to be regularly cleaned or replaced. If neglected, a clogged air filter can overload your furnace. The function of the air filter is to clean the air and protect the system by preventing dirt and debris from entering the furnace. When the filter is covered with dirt, the furnace needs to work longer and harder to raise the temperature of the house. Keeping your vents clean reduces airflow obstructions, thereby allowing the furnace to heat the house quickly and evenly.
Install a Programmable Thermostat
If your furnace is consistently overworked, there is a good chance that it's lifespan will be reduced. As such, it's important to create a balance so that the furnace is not working harder than necessary. This can be achieved by installing a programmable thermostat. A programmable thermostat controls the usage of your heating system. Based on the time of day and a set of predefined schedules, it can automatically turn the heat up or down. Moreover, a smart thermostat can even adjust the temperature depending on the number of people in the home. The great thing about this technology is that you can control the thermostat from anywhere using a smartphone. Programmable thermostats not only help in increasing the lifespan of the furnace, but they also help you save money on your energy bills.
Perform Regular Furnace Maintenance and Repairs in Oak Brook
One of the most important things that you can do to prolong the lifespan of your furnace is to schedule maintenance biannually, each spring and fall. Since the fall and winter months are when the furnace is used the most, it is best to have the furnace inspected before you turn it on. Regular tune-ups will allow technicians to catch any loose wires or possible carbon monoxide leaks well in advance, saving you hassle and headache.
Have Your Heating System and Furnace Serviced by a Professional Oak Brook Heating, Furnace and Air Conditioning Company!
Are you looking for a heating, furnace and cooling company in Oak Brook, Illinois? If so, Hearthstone Heating & Air Conditioning is here to help.
We have served numerous homeowners throughout the Oak Brook area since 1996. Whether you need a regular tune-up or a major problem fixed, we have the HVAC experts to help you. That is the primary reason why we are the most trusted name in DuPage County.
Contact us today to schedule an appointment!