Furnace maintenance in Itasca, Illinois involves an in-depth inspection and tune-up of your heating system. However, most homeowners only reach out to their local HVAC company when something goes wrong. As such, many homeowners often wonder, "Do I really need regular maintenance for my heating system?"
If you want to save money and remain comfortable in your home, then you could absolutely benefit from having your furnace regularly maintained by a professional. Below, this heating and air conditioning company in Itasca, Illinois is going to answer some of the most frequently asked questions about furnace maintenance.
What Is Included in a Furnace Maintenance Service?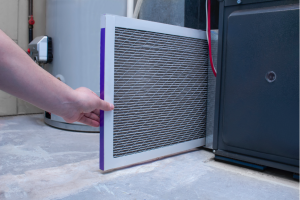 Furnace maintenance in Itasca, Illinois will include checking the entire HVAC system's essential components and adjusting, cleaning, testing, and lubricating them as needed. Some of the specific tasks involved in our maintenance service include the following:
Vent system and air grill inspection
A thorough examination of the heat exchanger for signs of wear and tear
Examining and cleaning the system's blower and cleaning out any debris
Testing the amp draw of the blower motor
Inspecting electrical connections, making adjustments, and replacing damaged wires as needed
Checking the burner and flame sensors
Examining the belts for signs of damage or cracks
Thermostat inspection and calibrating it as needed
Lubricating all movable parts of the heating system
Checking air filters, cleaning them, and replacing parts as needed
Inspecting the safety controls and startup system
If your furnace is an oil or gas type, there are some additional steps included in the furnace maintenance service, which include:
Examining potential leaks in the fuel lines
Checking and testing the gas pressure, the burner, and the pilot
Thermocouple inspection
What Is the Recommended Schedule for a Furnace Tune-Up?
Biannual
In general, biannual furnace maintenance can keep your system running smoothly. If you are serious about maintaining the quality of your indoor air, or if anyone in your home is dealing with respiratory issues or has a compromised immune system, getting a furnace tune-up four times a year is recommended.
Right Before the Winter Season
In Itasca, Illinois, the best time to call for a furnace maintenance service is before you need to be running your system on a day-to-day basis when temperatures drop. The best time for a furnace tune-up is the end of the summer and by the start of fall.
What Are the Benefits of Regular Furnace Maintenance?
Regular furnace tune-ups provide several benefits, including the following:
Save Money
Furnace maintenance enables your heating system to run as efficiently as possible. This translates to monthly savings on energy bills. Over time, these savings can even cover the cost of the furnace maintenance tune-up itself.
Warranty Maintenance
The terms and conditions of most furnace warranties in Itasca, Illinois, require regular maintenance of the unit. If yours does, tune-ups are critical to keep your warranty valid and ensure you have the coverage you need if anything goes wrong within the warranty period.
Minimize the Risk of Unexpected Breakdowns
Minor issues can be identified and fixed before they become serious problems. Therefore, your system will have fewer system failures and a reduced need for repairs. You will have fewer chances of being left without heat during the cold months.
Maximize the Lifespan of your Furnace System
A well-maintained furnace system can last for more than a decade so that you can get the most out of your investment.
Ready to Schedule a Furnace Maintenance Check? Hire the Top-Rated Heating and Air Conditioning Company in Itasca, Illinois
Furnace maintenance checks not only help extend the life span of your furnace, but they also help you avoid inconvenient breakdowns throughout the winter months. Are you ready to schedule a furnace maintenance tune-up? If so, Hearthstone Heating & Air Conditioning is the company to call.
As the top-rated heating and air conditioning company in Itasca, Illinois, we have been helping homeowners throughout the area with their HVAC needs since 1996. Contact us today at (630) 517-5460 to get stared.