The heating and air conditioning system is likely the biggest consumer of energy in your Lisle home. Therefore, as a homeowner, it's important to make thoughtful decisions about installing the right heating and air conditioning unit.
For older homes, during the summer, the costs of cooling can increase depending on the quality of the unit. Similarly, in winter, the costs of heating can double if the system has not been properly maintained, or if the ducts and vents have not been adequately cleaned and serviced.
Additionally, the heating and air conditioning unit has a lifespan of around 15 to 20 years. So, if your heating and cooling unit has crossed the 15-year mark, it's best to have a qualified professional examine the system to see if its parts are still in good condition to serve you through the next season, or if the system needs to be replaced altogether.
Here are some of the reasons why you should consider installing a new energy-efficient heating and air conditioning system in Westmont:
1. Lower Energy Bills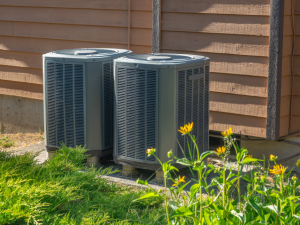 Furnaces are measured with AFUE (annual fuel utilization efficiency). Older units work at an efficiency of around 65% AFUE, implying that 35% is lost in transit before the conditioned air reaches your room. Modern-day units operate at an efficiency of over 90%. This translates to an HVAC unit that is better for your pocket and the environment.
2. Longer Lifespan
An energy-efficient HVAC unit is designed to operate smoothly while using less energy. Since such a unit does not cycle on and off, it results in lower wear and tear of the parts. This, in turn, translates to a longer lifespan of the unit, which will serve you longer without the need for frequent repairs.
3. Better Performance
In spite of the upfront costs of a new system, an energy-efficient unit should always work for your benefit. Designed with more advanced features, some units are even equipped to work within a 25% capacity and still provide the required comfort level to the room.
4. Environmentally Friendly
Newer HVAC units are environmentally friendly because they consume less energy. Additionally, the cooling systems now use refrigerants that are not harmful to the ozone layer. Furnaces are also more efficient, and they help in reducing waste that generate greenhouse emissions.
5. Safety
Unlike "traditional" models, newer models don't have to run for as long of a time, which translates to less combustion time. Combustion is also made safer by better regulating the airflow, which decreases any chances of a mishap caused by the furnace.
6. Comfort
Due to newer technology, modern-day HVAC units produce more even heating, consistent levels of airflow, and better humidity control. All of these three factors help maintain a constant temperature and the desired level of comfort in your home.
7. Increased Resale Value
If you are thinking about selling your home in the next couple of years, a new and efficient HVAC system can significantly give your home an advantage. Home buyers often look for these features, and since a new HVAC unit can make a huge difference on the utility bills, it can help you finalize the sale.
Have Your HVAC Unit Serviced by a Professional Lisle Heating and Air Conditioning Company!
Are you looking for a heating and air conditioning repair and installation service company in Lisle? If so, Hearthstone Heating & Air Conditioning has all the answers you seek.
In business since 1996, our technicians have served numerous customers throughout the Lisle area. If you need a regular tune-up or a problem fixed, we have the HVAC experts to help you. That is the primary reason why we're the most trusted name in DuPage County!
Contact us today to schedule an appointment.