As temperatures continue to rise, you will soon need to turn on your air conditioner full-time to enjoy comfortable room temperatures in Woodridge. However, an air conditioner requires a lot of energy and can increase your electricity bill by as much as 50%.
In this article, we're going to discuss five simple adjustments that you can make to your Woodridge home that will help you stay cool without spending a fortune:
1. Schedule Annual Woodridge Air Conditioning Air Conditioning Maintenance Services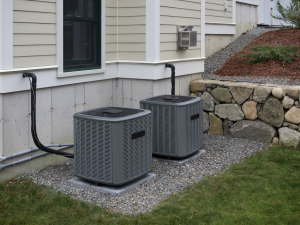 Regular HVAC maintenance and service will ensure that your unit is able to operate with optimal efficiency. An annual service agreement with a reputable Woodridge air conditioning repair company will give you the peace of mind that your AC unit will serve you as it's designed to. A team of technicians will check for defects, remove accumulated dirt, replace air filters, and address any problems that could possibly result in an expensive repair or replacement in the future. This will lengthen the lifespan and increase the energy efficiency of your air conditioning system.
2. Leverage Ceiling Fans for Circulation
Since cooled air is denser than warm air, it has a tendency to fall towards the floor. Keeping ceiling fans running at a moderate speed will help circulate the cooler air effectively throughout the room. By doing this, you can set your air conditioner to a warmer temperature and still achieve the same level of comfort, thereby helping you save energy. Moreover, ceiling fans keep the cool air in constant circulation, giving you a feeling of a fresh, cool breeze in the room.
3. Clean AC Filters Regularly
Even if your home is kept clean, hair and dust accumulation can clog your filter, making your AC unit work harder to maintain the temperature set by you. So, in order to avoid skyrocketing electricity bills, we recommend that you replace your filter every few weeks.
4. Avoid Air Leakage
Air leakage is a major culprit that will require your AC unit to work harder to maintain the set temperature for your room.
Similar to a car getting hot when parked in the sun, sunlight can enter into your room and increase the temperature in your home. In order to avoid this, you can keep drapes and blinds shut on any windows facing the sun so that you don't have to use energy to remove additional heat.
Also, check for any crevices or cracks near doors and windows. This can allow the cool air from inside to escape, and also gives an entry point for the hot outside air to enter the house. Sealing cracks and weather-stripping your doors will ensure that there is no air leakage.
Since cool air falls toward the ground, you might have noticed that the basement is always a bit cooler than the second floor of your house. In order to distribute cold air more evenly, you can close all vents in the lower areas of your house. This will help in re-directing the cool air to warmer areas without consuming more energy.
5. Install a Programmable Thermostat
Although a programmable thermostat could be an up-front investment, it will help you save money and will pay for itself in just one cooling season. The beauty is that the thermostat never forgets to shut off the system when nobody is at home, and adjusts the temperature as required. With modern technology, you can even manage your home's temperature from your smartphone. This allows you leave the AC unit off when no one is at home and turn it on a half hour before getting home.
Take Advantage of Your Local Woodridge Air Conditioning Repair, Maintenance and Installation Services
Are you looking to install an air conditioner or improve air quality in your Woodridge home? Hearthstone Heating & Air Conditioning are the people to see. With a professional team of experts, we have been serving the Woodridge area since 1996.
Contact us now to set up an appointment and discuss your needs!