Today, every homeowner wants to have clean air in their home. Air that is free of dirt, dust, smoke, and pollen is especially important for those who suffer from allergies. Allergic reactions are triggered by allergens in the air, which could come from several different sources inside or outside the home.
To alleviate this problem, there are several solutions that help to improve the air quality inside your Downers Grove home, such as improving the ventilation, eliminating airborne contaminants, and installing an air filtration system.
In this post, we'll first explain what air filtration is, then we'll discuss how you can improve your home's indoor air quality by installing an air filtration system in Downers Grove, Illinois.
What Is Air Filtration?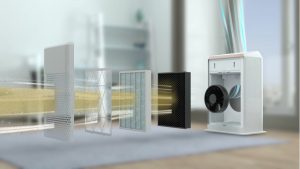 The term "air filtration" refers to any method that aids in achieving a specific air cleanliness level. It encompasses any task that tries to prevent dirt, dust, debris, and lint from circulating in your home.
Air filtration in Downers Grove provides several benefits, some of which include the following:
Protects the well-being of the habitants of the house
Protects the décor of the house by removing the staining capabilities of airborne dust
Reduces the need to dust around the house
Eliminates fire hazards caused by the accumulation of lint inside the ductwork
Removes mold spores and other allergens that can be detrimental to health
Removes airborne bacteria that could cause respiratory infections
How Can You Improve the Air Quality in Your Downers Grove Home?
You can begin to improve the air quality in your Downers Grove home by examining your surroundings and changing your habits accordingly. To enhance your ventilation, open the windows often to let the clean fresh air inside. Also, make sure you change the air filters of your heating and air conditioning system every one-to-two months. You can then examine the materials that make up your indoor décor and furniture. Are they relatively clean, or are they full of dust and dirt? Next, ensure that high-use areas of the home — like the kitchen and living room — are regularly vacuumed and cleaned. Once you have done these things, it's time to consider your options for installing an air filtration system in your Downers Grove home.
What Is the Best Air Filtration System?
There are several different types of air filtration systems available today, which come with new added capabilities and improvements each year.
Of all the different types of air filtration systems, HEPA filters are well known to do a great job of capturing small particles. HEPA stands for "high-efficiency particulate air," and its standard for air filters is specified by the Department of Energy to ensure that minute allergen and airborne particles are captured.
What are the Benefits of Installing an Air Filtration System?

There are several benefits of installing an air filtration system in Downers Grove, including the following:
Reduces levels of airborne allergens and contaminants in the home, including pet dander, plant pollen, dust mites, and more
Minimizes household air pollution to improve indoor air quality
Decreases allergy symptoms, such as sniffing, sneezing, wheezing, coughing, fatigue, itchy eyes, headaches, and more
Are You Looking for a Downers Grove, Illinois Heating and Air Conditioning Repair Company?
Are your allergies worse than usual this season? Are you looking for a heating and air conditioning repair company to install an air filtration system at your home in Downers Grove, Illinois? If so, you've come to the right place — Hearthstone Heating & Air Conditioning is here to help. Regardless of your indoor air quality needs, our technicians can help you find and install the right air purification device for your home. Contact us today to schedule an appointment.