Summer is around the corner, which means your air conditioner needs to be prepared to keep your home cool and comfortable throughout the hot months. Is your air conditioner in good working condition? If not, now is the right time to have the unit serviced or replaced.
In this post, we're going to discuss some of the most common signs that it's time to replace your air conditioner in Darien, Illinois.
Age of the Air Conditioner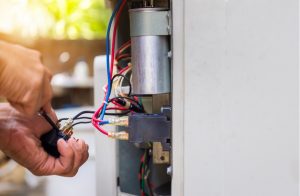 On average, an air conditioner has a lifespan of about 10 to 15 years. With that being said, the first thing you should do is figure out the age of the AC system and determine whether or not it's still in good shape. If the air conditioner was bought before you purchase the house, you should look for the manufacture date on the metal plate that is attached to the unit.
Because air conditioners have an external unit that is subjected to extreme weather conditions, it has a much shorter life expectancy than a furnace. The efficiency and effectiveness of your AC are dependent on several factors, including whether or not you properly maintained the unit throughout its lifetime. The lifespan is also affected by how often the unit is used, and if it was sized correctly when it was purchased for your home.
The Efficiency of the Unit
The efficiency of your air conditioner can be roughly estimated by looking at your monthly energy bills. Unless there are some big changes in the home's energy use, your energy bill should stay fairly consistent every month. If your regular usage has remained the same and you notice a surge in energy bills, it might be time to replace your AC unit.
An air conditioner that draws more power could indicate that it's losing efficiency or it's malfunctioning. In either case, you may want to think about replacing the unit to save money in the long run.
R-22 Freon Refrigerant
R-22 Freon is a dangerous ozone-depleting substance. If you own an air conditioner that is more than ten years old, there's a chance that it uses R-22 Freon. There's no need to panic if your air conditioner still uses this refrigerant. However, if the air conditioner breaks down and needs to be repaired, there won't be R-22 Freon available to refill the unit. At that point, you'll most likely have to look into a replacement option.
Frequent Breakdowns
The most common AC issues are related to a lack of maintenance. During a scheduled service and maintenance appointment, the technician will look for and correct any small issues that could turn into larger problems. However, if your air conditioner frequently breaks down despite regular maintenance, you should think about replacing it before a complete breakdown occurs.
Expensive Repairs
If you are facing an expensive repair, you should weigh the costs of the repair against the cost of installing a new unit. If the cost of a replacement is not much more than the cost of the repair, it might be financially wise to replace the unit now.
Hire a Darien Heating and Air Conditioning Company to Replace Your Air Conditioner
Are you currently facing issues with your air conditioning system? Are you considering a replacement, or do you need some routine maintenance? If you answered "yes" to any of these questions, and if you live in the Darien area, then Hearthstone Heating & Air Conditioning is the company to call.
We've been in business since 1996, and we've served numerous customers throughout the Darien community. If you want to have a new unit installed, or have your current equipment serviced, our technicians can get the job done. Contact us today to schedule an appointment!