Proper heating and air conditioning of your Oak Brook home is essential to making sure that your home gives you the comfort you deserve. In order to have the peace of mind that you have well-maintained system, you need a licensed Oak Brook heating and air conditioning contractor.
No matter what heating and air conditioning repair or installation issue may come up, an expert contractor will be able to identify the problem and have your system up and running in no time.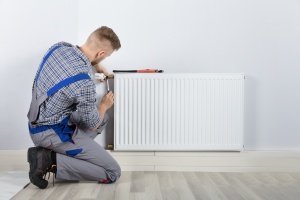 A heating and air conditioning contractor is not just necessary at the time of installing your furnace or air conditioner. They're the experts who get called in when your system needs servicing, or when you need to install or repair ductwork, or are having any issues with your thermostat. A licensed heating and air conditioning contractor will be aware of all the codes and regulations required by your local area and will have the know-how to assess the problem, explain what needs to be done, and actually perform the work.
Peace of Mind
Experienced heating contractors are professional, courteous, and take great pride in their work. Whether you need a completely new heating or air conditioning installation done, or you just need your system serviced, they will guide you through the process every step of the way.
They understand how important it is to deliver the peace of mind that your system is running properly so that you and your family are comfortable. A trusted Oak Brook HVAC contractor will always be available when you need them.
Unexpected Breakdowns
There's nothing worse than your furnace or air conditioner breaking down during a cold or hot spell. When something like that happens, you might not always know who to turn to. You may try repairing it yourself, or you might call in a neighbor or friend, but ideally, you should always turn to your local Oak Brook HVAC contractor before the problem escalates.
A professional HVAC company will be able to send out a contractor right away to attend to your problem. They have the right people and products to make sure your system is taken care of.
Commitment to Excellence
Your furnace and air conditioner should be very easy for a HVAC contractor to diagnose.  This is what they deal with day in and day out. A professional heating and air conditioning contractor will be committed to excellence in every aspect of the job, from installing a furnace and AC unit, to maintenance, to offering first-rate customer service and more. They know that their business is dependent on your comfort and satisfaction, so those two factors are of utmost importance to them.
When you hire a licensed heating and air conditioning professional, you should be putting your comfort in the hands of an expert who is committed to getting the job done right.
Knowing all the Brands, Makes and Models
Your local HVAC professional should know different types of furnaces and air conditioning units inside out. So, if you are in the market to purchase a new system, they should be able to offer a solution that meets your specific needs.
You no longer need to browse brochures or surf the web to find a new system. You can simply call your HVAC contractor and speak to a knowledgeable staff member who can answer all of your questions. They can guide you to choose the right system and offer tips on how you can save on your energy costs.
Looking for a Heating and Air Conditioning Company in the Oak Brook Area?
Do you need to get your Oak Brook furnace or air conditioning system inspected?  Do you need to install a new air conditioner or furnace?
If so, we at Hearthstone Heating & Air Conditioning are the people to see. We have an experienced team of licensed HVAC professionals ready to serve you.
Contact us today to discuss your needs!