When summer temperatures become unbearable, your central air conditioning system works quietly in the background, making sure everyone in your Oak Brook home is comfortable.
Most ACs can last well over a decade with regular maintenance. However, like all things, your air conditioner can break down if not regularly maintained or may need to be replaced if the unit fails.
So, how do you know if your air conditioner needs to be repaired or replaced?
Your AC might breakdown due to several reasons. When your Oak Brook air conditioner service technician inspects your air conditioning unit, here are a few things they might discover:
1. Your Unit is Getting Old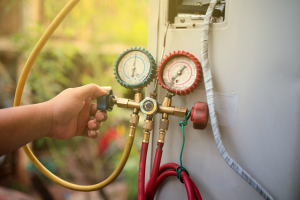 This is by far one of the most common reasons for air conditioner failure and replacement. Your AC unit may have worked hard for you over the years, but 10-15 years down the line, it may suffer frequent breakdowns and component failures, needing repairs.
2. Leaking Refrigerant
All ACs have a chemical flowing in the coils which essentially cools the air, called the refrigerant. Without this chemical, cooling would actually not be possible. If you find that your unit is not cooling properly or not cooling at all, it is highly likely that there may be a refrigerant leak that needs to be promptly addressed by your HVAC service technician.
3. Dirt and Dust
The coils in your AC unit help to cool the warm air. Over time, dirt and dust can clog your AC's filters, preventing warm air from getting to the coils. This causes inefficient cooling and might even cause the coils to freeze.
4. Overheated Parts
Parts such as the capacitors or contactors in your AC unit are important for keeping motors in the AC fan or blower functioning properly. But, there are times when these can get overheated—especially in the summer months—when your AC may be overworked. This can lead to parts overheating and even burning out.
5. Wiring Problems
Electrical problems may happen when the quality of the wiring in your air conditioner has deteriorated over time with age. It may also occur if the electrical wiring was not set up properly when your AC was first installed. Either way, shoddy wiring can affect your circuit breaker and cause electrical problems that need to be addressed by your HVAC technician.
6. Thermostat Issues
At times, the problem might not be with your air conditioner at all, but with the thermostat that controls it. If the thermostat is defective at measuring the proper temperature in your home, it may return false information to the air conditioner, causing it to turn on or off unpredictably.
In order to make sure that all of the above-mentioned problems are prevented, there are several things you can do. First, make sure to get your air conditioning unit inspected by a professional HVAC expert at least once annually. This can prevent any major issues from popping up unexpectedly—especially in the middle of a heat wave.
Second, clean and replace your HVAC system filters to make sure no dust and grime can get into your HVAC system. Lastly, even with proper maintenance, if you notice something out of the ordinary, or experience ineffective cooling, we recommend calling an expert technician to examine the issue.
Take Advantage of Your Local Oak Brook Area Air Conditioning Repair and Air Conditioning Installation Company
Are you having trouble with your air conditioner? Do you need to repair or install a new AC unit in Oak Brook, Illinois? If so, Hearthstone Heating & Air Conditioning can help. Backed by a professional team, we've been serving the Oak Brook area since 1996.
Contact us now to set up an appointment and discuss your air conditioning repair or air conditioning installation needs!