Your AC system is like the heart of your Clarendon Hills home — it is responsible for pumping cool air into your living spaces in the summer and helping you stay comfortable inside. That is why you should never ignore your AC when it starts acting up.
There are certain issues that can take place with an air conditioning system that require immediate attention from a professional. Are you wondering what these include? This AC repair company in Clarendon Hills, Illinois is going to review them below.
Odd Smells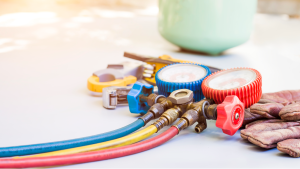 Getting your air conditioning serviced is always a good idea, but if you start to notice an odd smell coming from your vents, it is time to have a professional inspect the issue. The smell could be mold growing in your system that needs to be addressed before it worsens and releases mold spores into your home. It could also be something more severe, like refrigerant leaking from one of your AC components or compressor issues requiring immediate attention. Your local AC repair company in Clarendon Hills, Illinois can diagnose what is causing that smell and provide solutions for fixing it.
Warm Air
If your air conditioner is blowing warm air, it could mean a problem with your thermostat. If that is not the issue, it could be one of your fans — or maybe something is clogging up one of your vents. These problems typically result in an AC system shutdown and need to be looked at immediately; otherwise, you risk damaging more components or having an electrical fire. If you have concerns about what may be causing your system to blow warm air, do not hesitate to get in touch with a professional AC repair company in Clarendon Hills, Illinois. AC repair specialists can help you determine exactly what is wrong and keep your family cool (and safe) during these hot summer months.
High Humidity
When humidity levels are too high, it can lead to a buildup of mold and mildew on cooling coils, walls, floors, and any other surface in your Clarendon Hills home. Fixing or replacing your AC condenser is usually necessary for long-term relief from high humidity levels. Sometimes, you may need to work with an HVAC professional to help lower indoor humidity levels.
Constant Breaker Trips
If your AC fan motor keeps tripping, it could be due to faulty wiring or a bad motor contactor. Either way, you will need a pro to fix it. But first, ensure your thermostat is set correctly for AC mode and that the thermostat itself is not faulty. Your AC repair company in Clarendon Hills, Illinois will also want to look at your filter and ductwork. The good news? This should be an easy (and relatively affordable) fix if all those elements are working correctly.
Non-Operation
If your air conditioner is not working, it is important to understand that non-operation is not always because of a serious issue. For example, if it is very hot outside, your system may be at its maximum capacity and needs to cool down before you can use it again. In most cases, systems like these will automatically restart within 24 hours. However, if you continue to have problems after cooling down, you should call a professional for emergency AC repair services.
Looking for the Top-Rated AC Repair Company in Clarendon Hills, Illinois?
If you notice any sudden issues with your air conditioning system, it's important to get in touch with the professionals right away — like the experts at Hearthstone Heating & Air Conditioning. As the top-rated AC repair company in Clarendon Hills, Illinois, our technicians can ​​quickly and accurately diagnose any problems with your AC and get it fixed right away to ensure that it operates optimally when you need it the most. Contact us anytime at (630) 435-9800 for assistance.