If your air conditioner is not working, you might be tempted to try to fix the unit yourself, or hire a handyman to make the repair. This might seem like a more affordable or faster route to take, since professional experts might take longer to get to your home and repair your system.
However, if not attended to properly, self-repair could lead to even more problems than you started out with.
In this post, we'll discuss the major reasons why you should have your air conditioner repaired by a professional, rather than a handyman, in Clarendon Hills:
1. Half knowledge may be more dangerous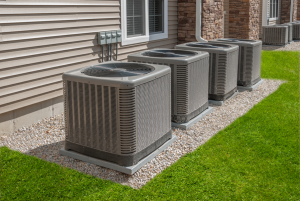 An ill-maintained air conditioning unit could lead to serious health problems. Freon — a cooling agent used in the air conditioner unit — can cut off the supply of oxygen to your lungs if inhaled during a repair, and it can also affect the health of the residents in the house if used incorrectly.
Similarly, if the unit is not repaired correctly, poisonous levels of carbon monoxide gas can enter the home, which can be very dangerous. Therefore, an inexperienced handyman could do more damage than good when it comes to air conditioner repair.
2. The problem may be more complex than you think
An air conditioner repair is not always as straightforward as performing an oil change in your car. An HVAC system is a complex unit that could have a complicated problem. If you choose to hire a handyman, you run the risk of them not being able to get the unit fixed. They might even make matters worse, costing you more time and money. It's best to call an air conditioning repairman who can handle the complexity of the problem at hand with ease.
3. The warranty of the unit could become void
In many cases, your air conditioner will be under warranty, which will sometimes cover repairs and part replacements. However, if you choose to go with a handyman for your repairs, then you run the risk of voiding your warranty altogether. If you are not sure whether the air conditioner unit is under warranty, you can check the receipt or owner's manual.
4. It could take longer to fix
A handyman may not be well versed with all the ins and outs of the unit, and due to this, it may take them longer to fix the unit. The process of calling a repairman, failing to diagnose the problem, or failing to fix it, could waste a lot of your time. Moreover, this wasted time will add to the discomfort of not having A/C in your home until the system is fixed.
5. The problem may not be with the AC
Sometimes, even if you know where the malfunction is, the root cause of the problem could be located somewhere else. Fixing the symptom and not the cause could lead to more issues in the long run. Therefore, it is recommended that you have a heating and air conditioning expert perform a thorough system inspection, assess the air conditioning unit, and provide the necessary steps for repair to get the system back up and running.
Are You Looking to Hire a Heating and Air Conditioning Service Company in Clarendon Hills?
Are you currently looking for a heating and air conditioning service company in Clarendon Hills? If so, Hearthstone Heating & Air Conditioning is the company to call.
We have been in business since 1996, and during that time, we've served numerous customers throughout the Clarendon Hills area. If you would like to have a new unit installed or your current equipment serviced, we have the experience to get the job done right the first time.
Contact us today to schedule an appointment!