If you've been noticing unusually high energy bills or a great number of recent repairs with your air conditioning unit, it's vital to ensure that you are regularly maintaining it to get the best performance.
Here are five essential steps any homeowner can take to keep their air conditioning system in a healthy working condition, avoid undue repairs, and even extend the life of their unit in Clarendon Hills:
1. Utilize a Checklist
Developing a checklist can ensure that your AC unit is working in optimum condition:
Inspect filters and replace them every 1 to 2 months
Check ducts and airflow
Check refrigerant levels, heat exchangers, and coils
Check to see if the AC system starts, operates, and shuts off properly
Check to see if the thermostat is set to an optimum temperature and is functioning as it should
Lubricate all moving parts to reduce friction
2. Keep the Coils Clean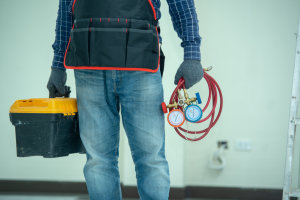 Dirty condenser coils can cause cooling efficiency to drop by 30% and can cause the unit to run at 60% – 70% efficiency. This is a significant drop in energy efficiency. It translates to your AC not cooling your home adequately, and at the same time, drawing a large amount of energy. This will result in higher energy bills.
Keeping your AC coils clean not only allows the unit to run efficiently and effectively, but it maximizes operation efficiency. It also assists in better indoor air quality and airflow, ensuring your unit runs reliably throughout the season without any sudden breakdowns and need for repairs.
3. Replace Filters Regularly
Dirty or clogged filters cause your AC unit to work harder. This leads to increased energy consumption and can often mean more frequent breakdowns. It's a good idea to mark your calendar so you can clean the filter at least once a month, or as per the manufacturer's recommendations.
A clean air filter serves the following benefits:
An unclogged filter won't allow dust to flow throughout your house
It will aid in increasing the lifespan of the AC unit
It will help in keeping mold and mildew from circulating through your home
4. Remove Debris from the Unit
Dirt and debris can settle and build up in the unit, which not only decreases airflow and impacts air quality, but can also impact the overall system capacity. Any debris such as leaves, twigs, pollen, and grass clippings can adversely affect the AC's performance.
Removing debris can be done during the scheduled maintenance of the AC unit. However, if you notice an excessive collection of debris, this is something that can be taken care of yourself.
Make sure you have protective gear for your eyes, a water hose, a sprayer, and a coil cleaner, then follow the steps below:
Turn off the unit
Clean the outside debris from the unit
Spray the unit with the coil cleaner and wait for 15 minutes
Use the hose to rinse the coil cleaner
5. Schedule Regular Air Conditioner Service and Repair in Clarendon Hills
It is important to hire a professional AC company to regularly visit and service the unit so that it works optimally. This is what you can expect from a professional Air Conditioning company in Clarendon Hills:
Checking gas connections
Examination of condensate drain
Thermostat functioning and calibration
Filter change
Mold check and clean up
Oiling of rotary parts
Examination of electrical connections
Checking adequate pressure and temperature throughout the unit
Have Your Air Conditioner Serviced by a Professional Clarendon Hills HVAC Company!
Are you looking for an air conditioner service company in Clarendon Hills? If so, Hearthstone Heating & Air Conditioning has all the answers that you seek.
We have been in business since 1996 and have served numerous customers throughout the Clarendon Hills area. If you only need a regular tune-up or a problem fixed, we have the HVAC experts to help you. That is the primary reason why we are the most trusted name in DuPage County.
Contact us today to schedule an appointment!