It is easy for homeowners to take their air conditioning system for granted until it breaks down, leaving them hot and uncomfortable in the middle of summer. But it does not have to be that way. If you are mindful of the signs that your AC needs attention, you can have it serviced before any major breakdowns occur.
This AC maintenance company in Willowbrook, Illinois is going to review some of the most common signs that it's time to have your system serviced.
High Energy Bills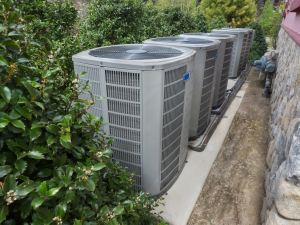 Higher than usual energy bills signify that your cooling system might be inefficient or need replacement. Older systems are known to over-cool and waste electricity. An HVAC specialist will know how to detect faulty fans, worn belts, and other signs that your system is not working properly. If your energy bills keep increasing, but you notice no change in comfort level or temperature, it is time to schedule an AC tune-up with a professional AC maintenance company in Willowbrook, Illinois.
AC Leaks
When it comes to HVAC systems, one small leak can lead to big problems. If you have a leak in your air conditioner, it is crucial to get it repaired immediately. Not only will you reduce your monthly energy costs, but you will also avoid potential damages that could occur from an undetected leak (and we all know what happens when pipes burst).
Low Airflow
One way to identify a malfunctioning unit is if you notice little to no airflow coming from your vents — but it is worth noting that low airflow is also a common sign that you need an AC tune-up. This service consists of an evaluation from a professional to look for potential problems and fix them before they have time to cause any real damage.
Odd Noises
Does your air conditioner emit strange noises when it is supposed to be cooling your home? If so, it's time to get in touch with an AC maintenance company in Willowbrook, Illinois. Odd noises can indicate that you are facing problems like a clogged or dirty filter, something stuck in your fan blades, a faulty motor, loose parts, or misaligned components. While some problems are relatively easy to fix yourself (like swapping out a dirty filter), others will require an experienced technician who has access to proper tools and parts. You should also call a professional if you smell burning plastic or other unusual odors from your air conditioner.
Humidity Problems
A home's air conditioning system is designed to control moisture and heat. When you are facing ongoing humidity problems in your home, it is likely your air conditioner is not working correctly or, worse, that it is damaged. Illinois experiences a fair amount of summer humidity, but this does not mean you should deal with it directly in your home.
Conclusion
While some signs are more obvious than others, it is important to remember that your air conditioning unit should not be one of those things you only think about when something is wrong. The signs listed above might not mean that you need professional help, but if you are experiencing them, do not hesitate to reach out to your local AC maintenance company in Willowbrook, Illinois. Even if your unit turns out to be operating perfectly fine, an expert may be able to spot problems or weak spots that could become a bigger issue down the road. Save yourself some money and ensure your unit works right — call a professional today.
Looking for the Best AC Maintenance Company in Willowbrook, Illinois?
As you now know, having your AC system maintained regularly can help prevent costly breakdowns. Are you ready to have your system serviced? If so, and if you're looking for the best AC maintenance company in Willowbrook, Illinois, look no further than Hearthstone Heating & Air Conditioning. Contact us today at (630) 435-9800 to schedule a service.